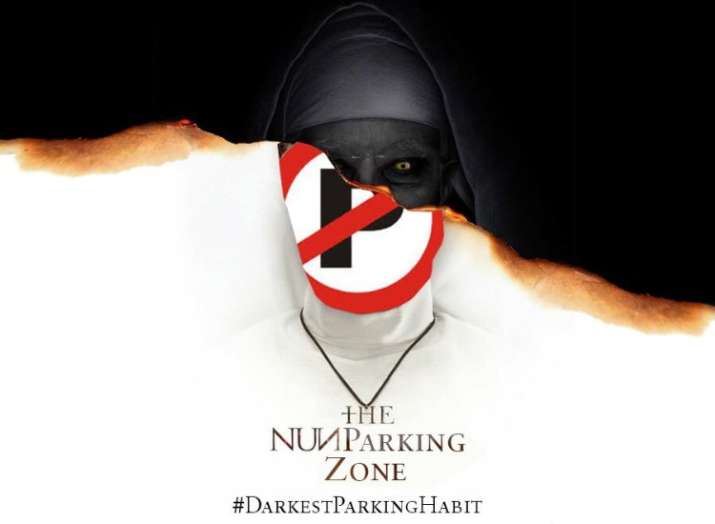 Looks like Hollywood movies and TV series are the new favourite of not just the internet users but also of the coolest cats Mumbai Police, as well. After flaunting their incredible word play of F.R.I.E.N.D.S. title track and Riverdale's dialogue, Mumbai Police has taken to the upcoming American horror film, The Nun's poster to preach the citizens about correct parking. 
Mumbai Police took to their Twitter to showcase another example of their excellent creativity and shared the poster of The Nun saying, Nun-Parking zone! If morphing the poster was not enough to teach the citizens about the horrors of wrong parking, the cops went ahead and added their own spin to the tagline and said "Parking in no parking zones, can create real horror on streets!" They did this in order to urge people to avoid such #DarkestParkingHabit.
Parking in no parking zones, can create real horror on streets! Be a responsible citizen. Avoid such #DarkestParkingHabit pic.twitter.com/P840KV3aDY

— Mumbai Police (@MumbaiPolice) September 6, 2018
(Also read: Mumbai Police's tweet on 'lane driving' gets trolled mercilessly, Netizens ask them about Mumbai's potholes)
 As always, their quick wit and sense of humour won over the Twitterati in no time and they flooded the post with words of appreciation and praise. This is what netizens have to say about the witty post-
So creative

— Virendra Singh (@vierendra) September 6, 2018
😂😂😂 the person handling this account is doing a great job. Kudos.

— Charu Sancheti (@Channsey) September 6, 2018
What kind of shit do you guys smoke plsss pass me I will pay any price for it 🤣🤣🤣

— Tanmay Dattani (@DattaniTanmay42) September 6, 2018
Hahaha. Amazing 😅😅.

— Pratik R. Shah (@pratsworld_23) September 6, 2018
Swagg nah dada 🔥🔥😎🙌👌

— Rohit Ghaisas 🇮🇳 (@GhaisasRohit) September 6, 2018
Here are the memes that are breaking the internet. We promise you will die laughing.
Lol 😂 @MumbaiPolice how you guys even troll @PMOIndia Modi ji by morphing his pic with NUN Valak. Is it like humiliating him. In above pic the nun with specs 👓. Now I wonder how this pic gone viral around social media....😂. #PMOIndia pic.twitter.com/LoOt3Lu7EN

— Aswin kumar (@grayskull97) September 6, 2018
#TheNun pic.twitter.com/sdcv7CWsEb

— Tanishq Malhotra (@tanishqmalhotra) September 5, 2018
(Junoon Junoon Junoon Junoon) x 9999 pic.twitter.com/dtKczZkdS0

— ♥️Happy DIVYAli♥️ (@ambertonic_) September 5, 2018
Sochta hu Kya se kya
Ke woh kitne Ho gye
Masoom the Dekhte dekhte pic.twitter.com/jRJzxKRgl7

— ✪ Veer ✪ (@ClawedHumor) September 5, 2018
Tinga Tinga nunga punga dost pic.twitter.com/jzsiIAqSpX

— ♥️Happy DIVYAli♥️ (@ambertonic_) September 5, 2018
The Andha Ka #Nun #TheNun pic.twitter.com/s2wgxDzFie

— Bauua (@vidooshaq) September 4, 2018
#TheNun pic.twitter.com/aiaAX31j7b

— shubham singh thakur (@asli_thakur) September 5, 2018
KRITI SA #Nun#TheNun pic.twitter.com/rJVKt06wUL

— Tweetera🐦 (@DoctorrSays) September 4, 2018
September 5, 2018
Sorry 😂 pic.twitter.com/9JZo1lrfBT

— Mask Ishan (@Mr_LoLwa) September 5, 2018
Tribute 🙏😂 pic.twitter.com/Omr2BIqB99

— PATIL 💪 (@Khandu_Khapkya) September 5, 2018
Let's check what's under #TheNun poster. 😁 pic.twitter.com/FGtQ8kuBRy

— ѕнυвнαηкαя ѕιηﻭнα (@imsingha_35) September 5, 2018