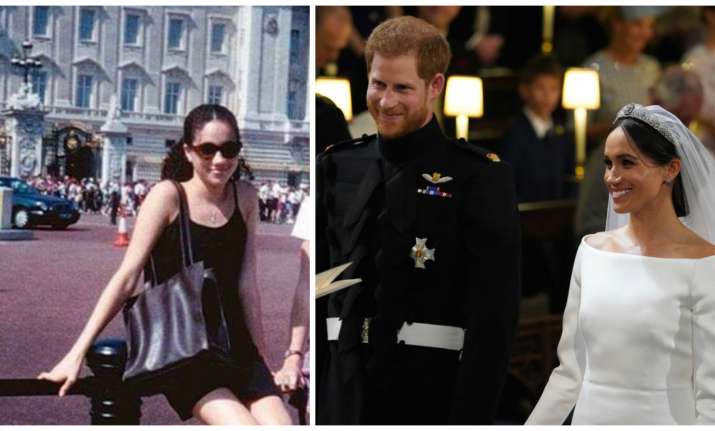 During our childhood, our grannies used to tell fairy tales to make us fall asleep and we in return showered her with questions like, 'Do fairytale exists?' Well, for Duchess of Sussex, Meghan Markle it has definitely come true.
On Saturday, Prince Harry took wedding vows with TV Series Suits actress, Meghan at St George's Chapel at Windsor Castle in England. Their wedding was watched by people all around the world with much amazement and excitement. While many were gushing over the beautiful couple,  others found Meghan's impeccable journey an inspiring one.
Internet is inundated with images from the royal wedding and people just can't have enough of it. Amongst images from the royal wedding, there is a throwback picture which is going viral. In the photo, we can see Meghan posing outside Buckingham Palace along with her friend. This photo has created quite a buzz on social media with people saying that dreams do come true.
As per a report in The Daily Mail, Meghan took this picture during her summer trip to Europe in 1996 along with her friend Ninaki Priddy.
Sharing this picture on Twitter, one user wrote, ''Meghan Markle took a picture outside of Buckingham palace as a fan and tourist when she was 15 and today she became part of Royal family. You never know where your destiny is,'' while another wrote, ''Destiny can never be denied. I am still feeling the joy in my spines.''
Check out tweets below:
#royalwedding
Meghan Markle took a picture outside of Buckingham palace as a fan and tourist when she was 15 and today she became part of Royal family. You never know where your destiny is .🌍 pic.twitter.com/wYaQdU5rsg

— เк🔪 คl๏ภє ฬคггเ๏г♣ (@elegantnasir) May 20, 2018
Destiny can never be denied. I am still feeling the joy in my spines.

— Yunusa Agunbiade (@adewng) May 20, 2018
When she was 15 posing outside the Buckingham Palace didn't knew after 22 years later she will marry the Prince. 🤴👸 #RoyalWedding pic.twitter.com/Y0sJEOB0jP

— R.N.Yousuf (@RNYousuf) May 20, 2018
You never know what life has planned for you #RoyalWedding pic.twitter.com/F6qTkHogHN

— GirlReligion (@girlreligionco) May 20, 2018
For all latest news, keep checking our Facebook page