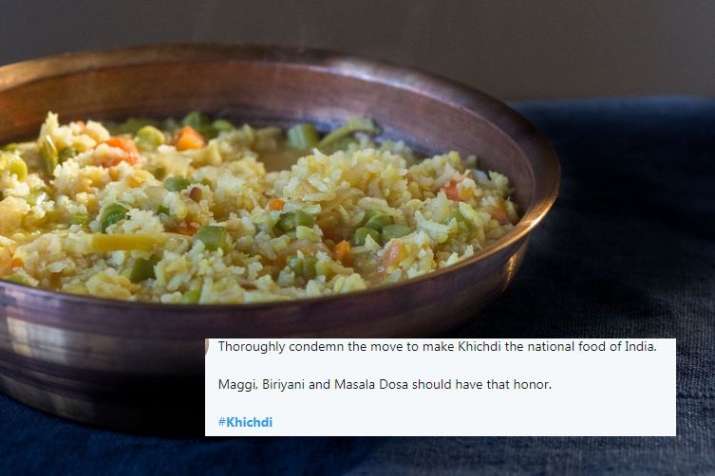 If you're a religious Twitter user and you never fail to check the list of trending hashtags, then you know how often bizarre things surface on social media. Be it a nosepin, dustbin or whatever! Twitterati just needs a word to start a Tweetstorm on the micro-blogging website. This time, Twitterati are having a field day while tweeting about 'Khichdi'. No, we're not talking about Prafful and Hansa's Khichdi. It's the real Khichdi we're talking about. The one which makes you skip the dinner if it's on the menu. Let's know how it all started.
It was less than 24 hours ago, news broke out that Khichdi is going to be our national food. Many rejoiced the fact, some loathed while there people who made trolls out of it. They were those who started tweeting memes and trolls on Khichdi without knowing what the matter is all about.
Hold yourself together, as these trolls and memes might throw you into a laughter fit! 
In a world of #Biryani be someone's #khichdi

Desi love ♥️😂

— Tweetera🐦 (@DoctorrSays) November 1, 2017
If #Khichdi to be designated as national food, then Indians should also declare the one who okayed this proposal as national dolt

— Debarati Majumder (@debarati_m) November 1, 2017
With that wit, some people deserve to be the professional troll makers of India. 
RT if u feel #Kasam deserves to be declared as the national food of India, and not #Khichdi 🙄

— Why So Silly® (@silly_why) November 1, 2017
Thoroughly condemn the move to make Khichdi the national food of India.

Maggi, Biriyani and Masala Dosa should have that honor.#Khichdi

— Advaid (@Advaidism) November 1, 2017
Dear Twitter thanks for trending #khichdi , now I know what to cook for dinner..🙏

— Bhar_atii Joshi (@bharti_joshi) November 1, 2017
Union Minister Harsimrat Kaur Badal too to Twitter to clarify that Khichdi is not going to be the national dish of India, popping the bubble of short-lived happiness of many Twitter users.
Enough Khichdi cooked up on a fictitious 'National Dish'. It has only been put for a record entry in #WorldFoodIndia.

— Harsimrat Kaur Badal (@HarsimratBadal_) November 1, 2017
The actual matter goes like this, Chef Sanjeev Kapor will be attempting to prepare 800 kgs of Khichdi to popularise Indian cuisines at India Gate Lawns during World Food India Fest. It is aimed to provide opportunities for both investment and trade in the food processing sector for leading Indian and International companies.
It's so hilarious that due to a small misunderstanding, a humble Khichdi is getting so much of attention on Twitter.
​