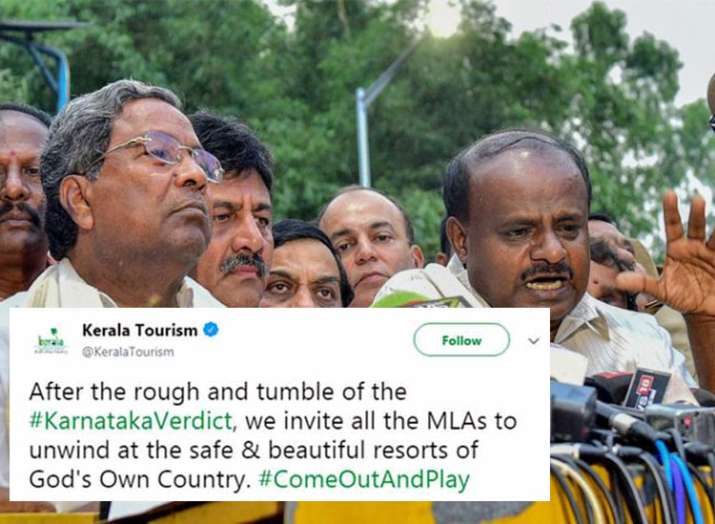 As the top parties Bharatiya Janata Party, Congress and Janata Dal (Secular) come together to claim their stake and form a government in Karnataka, neighbouring state Kerala came up with a way of giving the leadership some relaxing time. In an open invitation, the tourism department in God's own country, Kerala, has thrown its resorts open to the MLAs to relax.
Kerala Tourism took to their Twitter to invite the MLAs to de-stress after all the election tiredness by saying, "After the rough and tumble of the #KarnatakVerdict, we invite all the MLAs to unwind at the safe and beautiful resorts of God's Own Country. #ComeOutAndPlay"
The tweet went viral within an hour after it went public with 4200 retweets and 6500 likes, now the tally is over 10,000 'likes' and over 6,000 retweets. The post came just hours after Kerala Chief Minister Pinarayi Vijayan asked the JD(S) and the Congress to form the government. Karnataka election results show BJP falls short of 112 majority mark despite being the single largest party. In its attempt to form a government, Congress agreed to back a JDS-led coalition with HD Kumaraswamy as chief minister.
The light-hearted dig from the neighbouring state amused the Twitter users a lot. Where one user called it epic, the other stated, 'Cant be a better time to do it!!!!!!! Kudos to your creativity.'
Admin if this handle deserves promotion....😂🍻

— Old Monk (@Aadimanaw) May 15, 2018
Nice one.... I like the unique way of promoting Kerala Tourism

— Vijay (@StupidVijay) May 15, 2018
😂😂😂 Epic.

— St. Sinner (@retheeshraj10) May 15, 2018
Cant be a better time to do it!!!!!!! Kudos to your creativity.

— Sopali™ (@SopaliTeena) May 15, 2018
The tweet could also have been a jibe at troublesome times in Tamil Nadu when 120 lawmakers from AIADMK were sequestered for days at a resort outside Chennai by VK Sasikala, who wanted to prevent anyone joining "rebel" O Panneerselvam or OPS