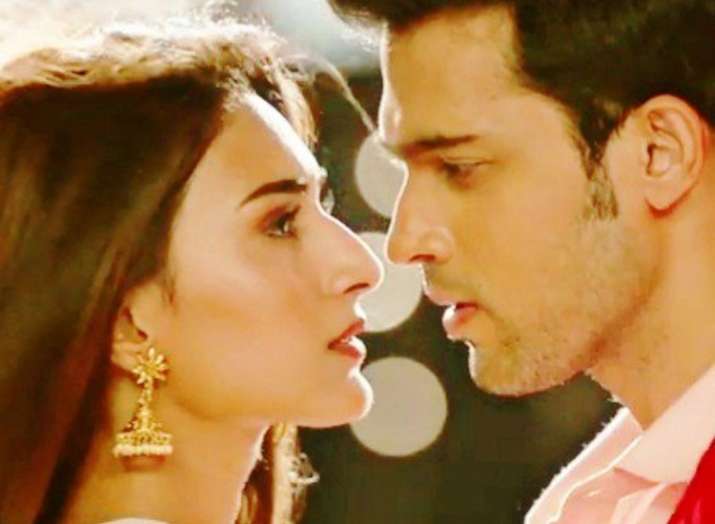 Finally, the wait is over! The characters from Ekta Kapoor's much-awaited love saga Kasautii Zindagi Kay 2 have been revealed and fans can't be more happy about it. Just like an icing on the cake, King Of Romance Shah Rukh Khan introduced the characters of Prerna and Anurag and left everyone speechless with his romantic voice. While fans were already head over heels about SRK's voice, Prerna aka Erica Fernadez and Anurag aka Parth Samthan's presence in the promo left us starry-eyed. Even more, listening to that Kasautii Zindagi Kay song brought back many memories.
The moment Ekta Kapoor shared the video introducing the lead duo of the epic love saga, netizens showered it with love and revealed that the 'flying red dupatta' made them fall in love once again. Here's what the Twitterati is tweeting about the Kasautii Zindagi Kay 2 promo-
MAN I AM SOLD ALREADY! THEY ARE LIT AF, looking bomb together #KasautiiZindagiiKay pic.twitter.com/nQYBxPmu8R

— adi-tea ⛄ (@cute__adi) September 2, 2018
THIS PROMOOOOOO!!! DAAAAAAYUMMMM!!!!🔥🔥🔥🔥🔥🔥🔥🔥🔥🔥🔥🔥🔥🤧🤧🤧🤧🤧🤧🤧🤧🤧🤧 ❤️❤️❤️❤️❤️❤️❤️❤️
I LOVE IT! I LOVE LOVE LOVEEEEE IT😭😭😭😭😭👏👏👏👏👏❤️❤️❤️❤️❤️❤️#KasautiiZindagiiKay pic.twitter.com/V5jvogVSoL

— M A L L I K A✨ (@mallikaaaax) September 2, 2018
Shit.. shit... Shitt....
The BGM matched Kal Ho NAA ho..
And I'm weeping here😭😭... As well as Shaking , shivering whteva u call it as..
It was Beautiful😍😘❤💯...
You guys look Gorgeous together @IamEJF and @LaghateParth#KasautiiZindagiiKay @iamsrk @ektaravikapoor pic.twitter.com/R4jDOxxWDH

— ♡Varsha♡ (@VarshRaja) September 2, 2018
The #KasautiiZindagiiKay trailer has excited me to another level altogether. THIS IS HEAVEN ON EARTH! Back in 2001, as a 6 year old, I decided that I wanted to be a part of the industry - because of this show.

Super high hopes, @ektaravikapoor ❤️

— Sulagna Chatterjee (@BeingChatterjee) September 2, 2018
I am not getting over this bit.
THIS PARTICULAR BIT STOLE THE PROMO TBH.
Parth & Erica expressed so much without a single dialogue.#KasautiiZindagiiKay @IamEJF @LaghateParth pic.twitter.com/vK52XGelJh

— Sadia (@sadiasays_) September 2, 2018
The flying red dupatta never looked so good. 😂😩✋🏻 #KasautiiZindagiiKay pic.twitter.com/qaibw39mLx

— Julee. (@smilingsugar_) September 2, 2018
Are you prepared to fall in love all over again? #KasautiiZindagiiKay, Starts 25th September at 8pm only on StarPlus. @iamsrk @ektaravikapoor @IamEJF @LaghateParth pic.twitter.com/ItsCWtf1y0

— StarPlus (@StarPlus) September 2, 2018
#Parthsamthaan Literally waited fr this moment always wanted to see you in different character and Anurag is quite opposite to Wat you did before..I ll b waiting fr 25th #KasautiiZindagiiKay #parthisAnurag

— PS (@liki0689) September 2, 2018
my day is totally made! thanks to parthu, ashi and randeep and of course! BAPPA! GANPATI BAPPA MORYA!!!!!!! #YehUnDinonKiBaatHai #KasautiiZindagiiKay

— Shilpa K (@asmaanee) September 2, 2018
Omggg I saw promo more than 10000 timesss 😭😭😭 @LaghateParth my boy is looking killer in the promo 😍😍😍 #KasautiiZindagiiKay All the very best parth 😘😘

— Rutaba ✨🌸 (@RutuSays_) September 2, 2018
For latest stories breaking the internet, check out our BUZZ section!