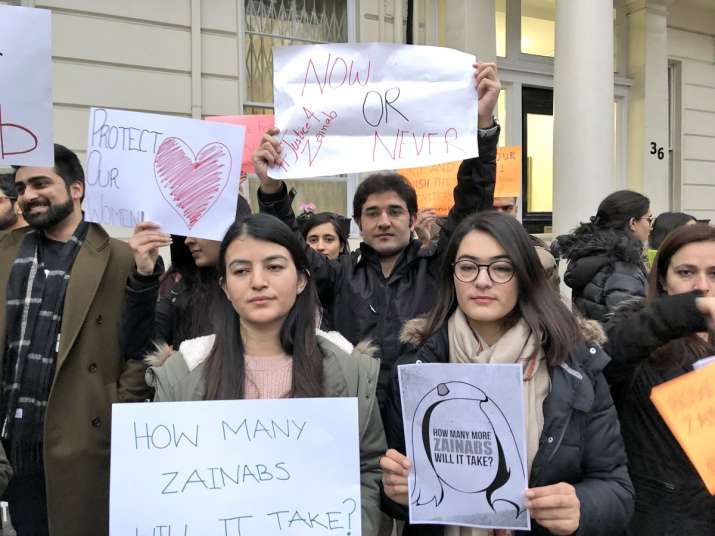 Time and again, the soul-shattering cases of sexual abuse are shocking the world. After the #MeToo movement and the Time's Up campaign that got people come forward and share their petrifying sexual harassment stories, the initiative called #JusticeForZainab is going viral.  
The kidnap, murder and rape of a 7-year-old innocent girl, Zainab Ansari has kicked a storm in Pakistan. Her body was recovered from a trash heap five days after she went missing in Kasur, in the Punjab province of the country.
The case triggered extreme criticism on social media as outraged citizens in Pakistan started protesting in demand for justice. A number of Pakistani celebrities, activists and politicians have condemned the tragic rape and murder of the 7-year-old using the hashtag #JusticeForZainab to demand action. 
After Hindi medium actress Saba Qamar appealed for justice in an emotional video, a TV anchor hosted the news bulletin with daughter in protest, another Pakistani actor and activist Nadia Jamil took to Twitter to narrate her horrendous encounter with sexual abuse when she was just four years old. Here's her tweet:
I was 4 the first time I was abused sexually. I was in college when it blew out of proportion.
People tell me not to talk to respect my families honour. Is my families honour packed in my body? I am a proud,strong,loving survivor. No shame on me or my kids. Only pride 4 being me

— Nadia Jamil (@NJLahori) January 13, 2018
You want to end rape? End the way men are taught to see themselves as custodians of women's bodies, with a natural born right to have sex with who ever & whatever they choose. This sense of entitlement is taught to a boy. He is not born with it. UNTEACH IT. Teach our sons right🙏

— Nadia Jamil (@NJLahori) January 11, 2018
The strongly worded message is a bid by the activist to make survivors speak up and not associate it with honour.
Meanwhile, in a series of revelations induced by the reporting of child abuse cases, media personality and entrepreneur Frieha Altaf also shared her own painful story.
I was sexually abused by our cook at age 6. My parents took action but everyone remained silent as if it was my shame. At 34 I realised how it had impacted my life.the only shame is keeping SILENT #ChildAbuse #shame #NoMoreChildAbuse #MeToo #JusticeForZainab #HowToStopChildAbuse

— Frieha Altaf (@FriehaAltaf) January 14, 2018
 
Post these two tweets, a string of such eye-opening revelations on the micro-blogging website. Both, men and women, opened up about their stories of child abuse. Read the tweets here:
Sexual abuse can occur in families even & crosses class barriers. Victims/survivors have been silenced too long - shame should be the perpetrator's.
Listen to yr kids, watch them, notice behavior changes that could tell of a deeper discomfort #JusticeforZainab #NoMoreChildAbuse https://t.co/sZg3iPprvE

— Fifi Haroon (@fifiharoon) January 14, 2018
Bro I feel for you. You're not alone.#metoo. When I was 15 I was in a public bus in Rawalpindi & this old uncle must have been in his 60s. Started touching my leg and moved up. I stopped him. Moved his hand away violently but was too scared to say anything. Wish I did!

— Bryce Barrows (@BryceBarrows) January 13, 2018
I was touched inappropriately and made to do the same in my early teen by a middle aged man in an empty swimming pool. The feeling was alienating at the time, confusing to be precise but gradually it left a void. A void that sucks my self-esteem every now and then.

— MasterShifu (@BiryaniSenpai) January 13, 2018
I've always encouraged my boys to speak to me whatever bothers them. They have complaint about their qari sahab, who obviously were told to leave. Once had a male care taker for them, who said 'I luv u' to them, they replied 'we hate u'. They told me, the same day he was fired.

— Asma (@AsmaZhk) January 13, 2018
I was sexually abused at the age of 12 by my cousin at Eid, after he had come back from namaz. I was groped when I was 8 years old by a stranger. I was asked to keep quiet too. But today I speak about it. More power to us.

— Hira Shah Uzair (@erumasgh) January 13, 2018
Bravo. Me too
I was 7 ...while been taught the Quràn by a maulvi

— Maheen Khan (@Maheenkhanpk) January 13, 2018
#childabuse #saynotochildabuse #metoo The Maulvi who came to teach me the Quran abused me sexually .I froze in fear day after day .
Share in support of children subjected to the sick acts ..by so called custodians of our religion

— Maheen Khan (@Maheenkhanpk) January 14, 2018
I was 8 and buried the memory so deep, it only came out and began haunting me 8 years later at 16 https://t.co/cfbUWd2PYv

— Eman Amjad Khan (@nam_e_man) January 13, 2018
Following the news of little Zainab's murder, people from all walks of life in Pakistan showed outrage and deep sorrow. Apart from that, media personalities focused on the solution to the problem and spreading awareness regarding the issue of child abuse.