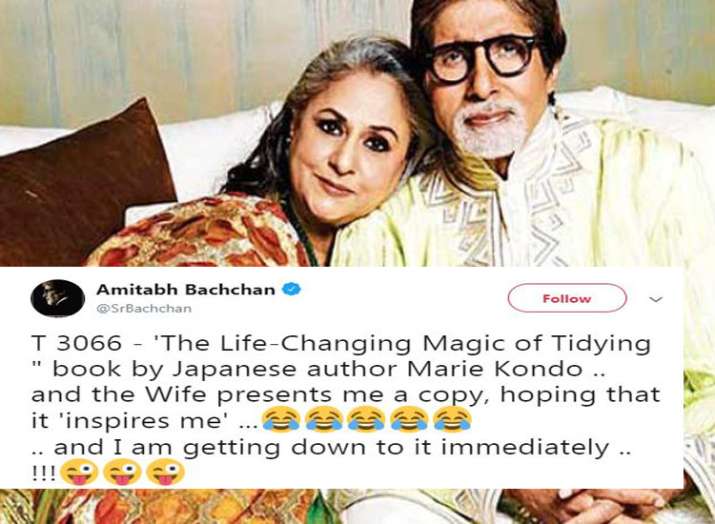 Amitabha Bachchan and Jaya Bachchan have been married for over 45 years and have always stood strong as the perfect definition of loving relationship and couple goals. This is no secret that the veteran actor is very active on his social media and keeps his fans updated with his whereabouts as well as his intellectual thoughts. On Tuesday, Big B took to his Twitter to share the thing that his lovely wife has gifted him and added a hilarious twist to it. Big B wrote, "'The Life-Changing Magic of Tidying " book by Japanese author Marie Kondo .. and the Wife presents me a copy, hoping that it 'inspires me' .. and I am getting down to it immediately .. !!!"
T 3066 - 'The Life-Changing Magic of Tidying " book by Japanese author Marie Kondo .. and the Wife presents me a copy, hoping that it 'inspires me' ...😂😂😂😂😂
.. and I am getting down to it immediately .. !!!😜😜😜

— Amitabh Bachchan (@SrBachchan) January 22, 2019
Interestingly, the book that Haya Bachchan presented her husband is the bestselling book by Marie Kando, the Japanese organising specialist and author. She has been changing people's lives for years by introducing them to the concept of decluttering. Since Jaya Bachchan has OCD herself and wants everything to be in place all the time, she advised her husband to imbibe the habit as well. Recently, when her kids Abhishek and Shweta Bachchan appeared on Koffee With Karan, they revealed how their mother is obsessed with having everything at the right place. This gift is the perfect proof of that.
While loyal and obedient husband Amitabh Bachchan claimed that 'and I am getting down to it immediately', Twitter had a rather hilarious reaction to the gift. While a Twitter user asked, "isn't it little late for the gift", another joked "Jayaji would see results soon". Also, many women said that they would like to do the same with their husbands as well. Check out Twitterati's reactions here-
You are funny

— Maya S Bhadooriya (@Sheela__Singh) January 22, 2019
Here is a Tip for life:Always follow your Wife's advice .......🤦🏻‍♀️🤦🏻‍♀️🤦🏻‍♀️😆😆😆😆😆

— ANAT MAGEN (@ANATMAGEN) January 22, 2019
Getting down to tidying or just reading?

— Iamrohini (@Rohini66967069) January 23, 2019
Hehe A book that is quite enjoyable and daunting. I forced my husband and kids to watch the first episode of her Netflix series, and we have started implementing her strategies. @SrBachchan https://t.co/Vyk1X2r68s

— Rachna Parmar (@rachnaparmar) January 23, 2019
Good thing the man knew when to apologize.........😆😆😆😆 as I always say: Always listen to your wife........hehehe

— ANAT MAGEN (@ANATMAGEN) January 22, 2019
For latest stories and viral videos breaking the internet, check out our BUZZ section!