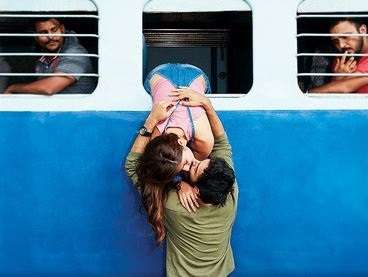 Film industry has been serving as the best provider of fodder for internet meme makers. First it was Anushka Sharma who became a national phenomenon on the social media after her Sui Dhaaga look was converted into viral memes and now it's the turn for Jalebi poster. The poster of Mahesh Bhatt's romantic drama was dropped a couple of days ago and it has already found itself as the subject of internet memes. Starring Rhea Chakraborty and Varun Mitra, Jalebi poster has the actress hanging out of the emergency window of a train's sleep coach to kiss her love interest Varun.
Here are some hilarious memes carved out of Jalebi poster that are doing rounds on the internet.
Many accused Bollywood of copying the iconic image from the Korean war which shows a soldier kissing his sweetheart hanging out of a train window. We can say, the resemblance is uncanny and unmissable.
Well done Bollywood, or should I say Copywood? #Jalebi #JalebiPoster @Tweet2Rhea @MaheshNBhatt pic.twitter.com/tCJVq0f7Hd

— Tejan Shrivastava (@TejanShrivastav) September 3, 2018
#JalebiPoster #Inspired by iconic photo of the Korean war, clicked during 1950s. A soldier of 160th Infantry Regiment was departing for the Korean War. It was captured by Frank Q Brown, former Los Angeles Times photographer. #bollywood @MaheshNBhatt #Film #Jalebi pic.twitter.com/2vnCkKIQDE

— Madhaw Tiwari (@MadhawTiwari) September 4, 2018
#Jalebi #JalebiPoster
Actor feeding Actress with Jalebi via mouth in a train. Innovative. pic.twitter.com/usNtKmqWk8

— Panda Palkova (@itispalkova) September 3, 2018
My idea 😍 #JalebiPoster #PhDB pic.twitter.com/vDdouIcrmd

— Meena_CS #PhDB (@c_meena_s) September 5, 2018
Expections Vs Reality #JalebiPoster pic.twitter.com/0V87Sq64zX

— Das Capital (@niravuparambil) September 3, 2018
While getting kiss from the present..
Ex-bf be like..#JalebiPoster pic.twitter.com/rGProR4PAj

— shijuka😘❤ (@itskirti_here) September 3, 2018
Best use of emergency window, indeed!
This could be us but tumhe to AC coach me hi ghumna Pasand hai.#JalebiPoster pic.twitter.com/k7Y3ouB0er

— Amit Solanki (@asolanki1809) September 5, 2018
Use of emergency window
Expectation vs Reality #JalebiPoster pic.twitter.com/Yep903Ih34

— K. (@saxena_amal) September 3, 2018
Filmmaker Mahesh Bhatt says "Jalebi- The Everlasting Taste Of Love" tells a story about how to live in an age of bewilderment. Backed by Mahesh Bhatt and Mukesh Bhatt's production house Vishesh Films, the film is scheduled to release on October 12, a statement to IANS said.
Mahesh Bhatt said: 'Jalebi' tells you how to live in an age of bewilderment when the old stories have collapsed and no new story has yet emerged to replace them."
The film also marks the Bollywood debut of TV actress Digangana Suryavanshi, who has starred in TV shows like "Qubool Hai", "Veera" and reality show "Bigg Boss". It also features Rhea Chakraborty and debutant Varun Mitra.