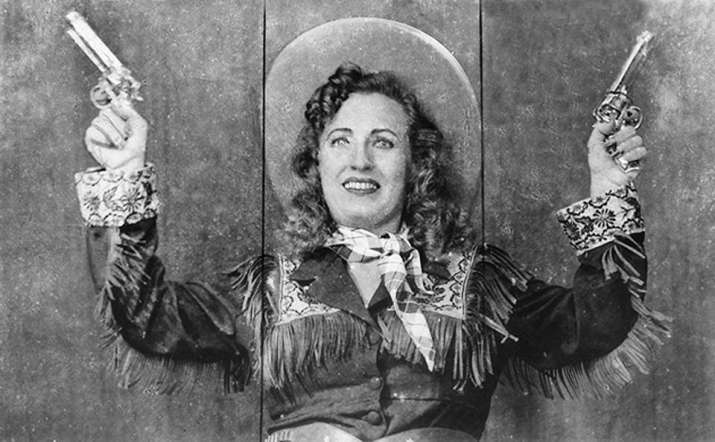 Google is commemorating the 110th birthday of the original Bollywood stuntwoman nicknamed 'Fearless Nadia'. Born as Mary Ann Evans on this day in 1908 in Perth, Australia, the British actress changed her name to Nadia on the advice of a fortune teller. The ballet-trained, blue-eyed, Australian-origin actress was a discovery of Jamshed Boman Homi Wadia, a well - known director, screenwriter and producer of Bollywood. She has worked in half a dozen Wadia films which helped her gather the acclaim she holds even today. Apart from Hunterwali, Pahadi Kanya, Diamond Queen, and Lutaru Lalna are some of the films she starred in. 
Her father came to India when she was five years old to serve in World War I. At the time, he was posted in Bombay. She moved to Peshawar (now in Pakistan) when she was seven, after her father was killed in war.
She returned to Bombay in 1928 where she learned ballet under Madam Astrova, whose troupe would perform for soldiers. Here, Evans learned to master the cartwheel and splits – something that was useful when she did her own stunts. Nadia emerged as a shining star for altering the gaze of an audience smitten by usual masculinity of the silver screen.
'Woman with a whip' Nadia, was never restricted to one prop; she was seen jumping from chandeliers and rooftops and would, at times, tame lions. Before becoming Bollywood's choicest feisty character, Evans was part of a dancing troupe-cum-circus group in Bombay. 
Vishal Bhardwaj also paid tribute to Nadia in his recent directorial venture Rangoon. Kangana Ranaut played the role of Jaanbaaz Julia to commemorate the Nadia's contribution to cinema.