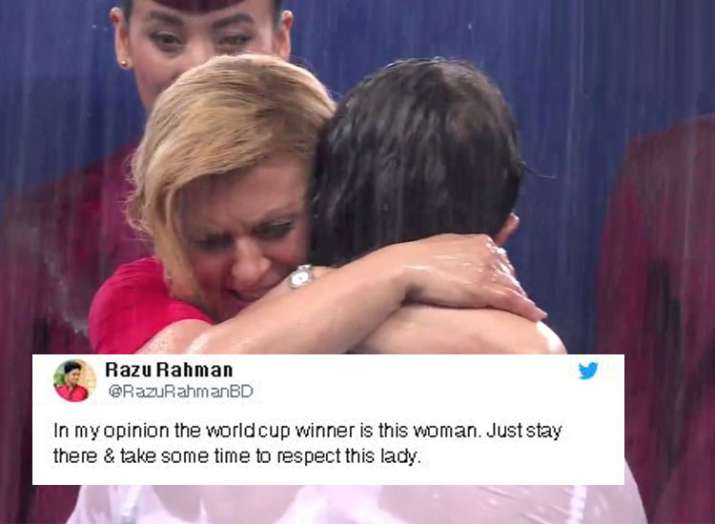 While almost the whole world was rooting for the underdogs Croatia, France swept away the World Cup with a terrific win last night. But more than win, netizens were head over heels in love with Croatian President Kolinda Grabar-Kitarović who comforted every player of the team with her warm hugs.
Croatian Prez's attitude after the team lost to France by 4-2 won over the internet in no time. The lady wore the team's jersey throughout the tournament and was spotted with a childlike excitement all the team. Even the defeat didn't spoil her excitement and she gave sincere hugs to not just her own team but the players of the winning team as well. Her 5-sec long hugs became the talk on the internet and she earned praises from all corners.
While one Twitter user said that, "In my opinion, the world cup winner is this woman". Another wrote, "The President of Croatia is the cutest she literally hugged everyone for over 5 secs which is registered as a real hug."
Here are all the tweets and praises she is being showered with. Have a look!
When your president hugs like this, the economy will always grow!! #Croatia #FifaWorldCup2018 pic.twitter.com/WguMtEPkKZ

— Mukurima X. Muriuki (@Mukurima) July 15, 2018
I think I have a new role model.
Kolinda Grabar-Kitarović Croatia's President is teaching the world to be open and to stay humble. This is how a president supposed to be. This is how a true leader supposed to be.Congratulations for this #Croatia#WorldCupFinal pic.twitter.com/12RBncaBrC

— Abhijit paul (@abhijitfloyd) July 15, 2018
The President of Croatia is the cutest she literally hugged everyone for over 5 secs which is registered as a real hug

— dراويng (@RawiSaad) July 15, 2018
Just for the feels I'm going to keep rewinding and watching Croatia's wonderful president hug each of her players like they are her own sons. And the French team, too!! Also great show, France. #WorldCupFinal

— Molly Wood (@mollywood) July 15, 2018
Hats off to President of #Croatia Kolinda Grabar-Kitarovic. She attended each #Croatia match at the World Cup, travelled in economy class & sat with the fans in the stadium. She refused to take any pay for her days not at work.
Now that's leadership.
#WorldCupFinal pic.twitter.com/rWm8XsnVw7

— Ronnie 🔥 (@AleeyKhan17) July 16, 2018
I want someone to hug me the way Croatia's president hugs everyone.😂 pic.twitter.com/9V4B6LQFta

— Zuhayr (@zuhayrstark) July 15, 2018
The President of Croatia is just brilliant. Massive smile, wears the shirt with pride, loving every second of everything and great giver of hugs. Can we have her? Much respect. #WorldCupFinal pic.twitter.com/OjxvdUNTCE

— Edward Couzens-Lake (@EdCouzensLake) July 15, 2018
France may have won the #Worldcup But the Croatian president Kolinda Grabar-Kitarovic's affectionate hugs & kisses have enthralled millions of hearts all over the world. The world needs more Kolinda-hugs and less hate! @KolindaGK #WorldCupFinal #Croatia #CROFRA #FRACRO #FIFA pic.twitter.com/I8f15l8ZyO

— Ahmed (@Ahmedcadaali) July 15, 2018
Croatia's president out there giving everyone the best, most sincere hugs. I love the fact she's worn that jersey all tournament

— Kim Bellware (@bellwak) July 15, 2018
How many times has France won the world cup? When was the last time France won a World Cup?
This is France's second win. The team won the World Cup 20 years ago in 1998.