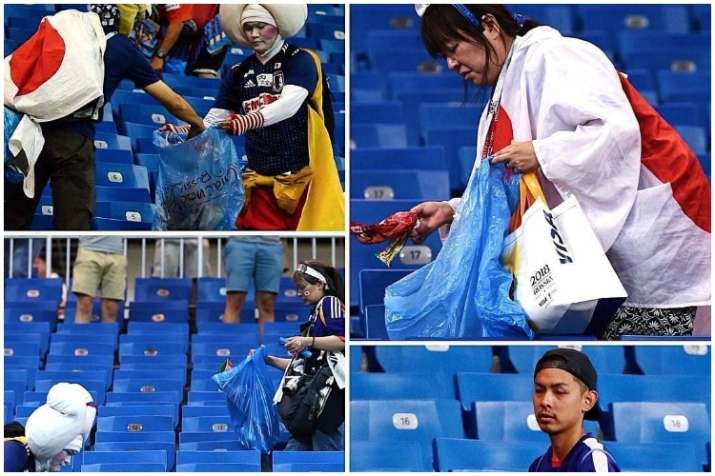 With the recent defeat by Belgium, Japan had its way out of FIFA World Cup 2018. Even though the Japan fans were highly disappointed and upset over the loss, they didn't refrain from portraying the true culture that they are known for. Post the match all the fans from Japan stayed back and helped clean the stadium. This gesture sure won many hearts and the defeat didn't seem that upsetting after all. Twitteratti stepped up to support and applaud this sweet gesture and were all praises for the Japanese community. Here are a few posts aimed at appreciating their job.
😔 Lose 3-2 in the 90th minute to Belgium.

🗑 Still stay behind and clean rubbish from the stands.

🇯🇵 Take A Bow, Japan Fans. 👏 pic.twitter.com/BsGwUx6MkZ

— SPORF (@Sporf) July 2, 2018
After being 0-2 down,incredible comeback from Belgium to win 3-2. But these visuals after the match of Japan fans staying behind to clean the stadium up inspite of the defeat is so wonderful. A wonderful culture and truly class. Hope few of our fans can learn and emulate#BELJPN pic.twitter.com/W7NM6vrhWI

— Mohammad Kaif (@MohammadKaif) July 2, 2018
Knocked out of the World Cup in the worst way... Japan fans stayed behind to clean the rubbish in the stadium after that defeat.

HUGE RESPECT 🇯🇵🙏 pic.twitter.com/10i4yKzSVT

— Football Stuff (@FootbalIStuff) July 3, 2018
#Japan Fans Cleaning The Stadium. They Might Have Lost The Match But The Team And Its Fans Won Our Hearts. 👏💪🙏 #BELJPN #JPNBEL #WorldCup2018 #WorldCup pic.twitter.com/WCFXyccgOj

— Sir Ravindra Jadeja (@SirJadejaaaa) July 2, 2018
Japan, who featured at the FIFA World Cup for the first time all the way back in 1998, had previously made it to the Round of 16 on two occasions and were desperate to create history in Russia. They looked to be well on their course to do so but were defeated by Belgium, who scored the winner in the last minute of injury time.
Genki Haraguchi and Takashi Inui, after a goalless first half, had scored early in the second to put the Blue Samurai in the lead. However, Jan Vertronghen and Marouane Fellaini hit back with goals of their own as the match looked poised to enter extra time. However, Nacer Chadli found the net with the last attack of the match and sent the Asians crashing out.
Even though Japan lost this match, the defeat wasn't so obvious. They were aiming to qualify for the last eight for the very first time in six straight attempts but fell short by the tiniest and most heart-breaking of margins, losing their Round of 16 matches by a 3-2 scoreline with the last kick of the game.