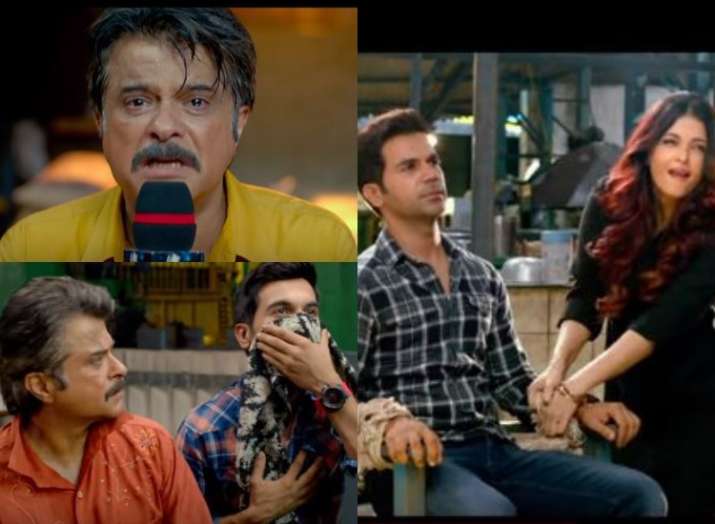 Most awaited Fanney Khan trailer has finally dropped on the internet and netizens can't control their excitement watching the cute chemistry between the gorgeous Aishwarya Rai Bachchan and Rajkummar Rao. While the duo sparks a fire for all the good reasons in the trailer, one cannot ignore the power-packed performance delivered by dynamic Anil Kapoor who struggles to make her daughter, Lata's singing dream come true. 
Loaded with hilarious one-liners and an emotional drama, the trailer forces us to expect a roller coaster ride from the movie. Not just for us but Twiterrati as well feels that Fanney Khan belongs to Anil Kapoor. While one Twitter user credits the ease of the trailer to the terrific casting of the movie, another says that Aishwarya and Rajkummar's chemistry comes as a pleasant surprise.
Here are all the reactions Twitter users have for Anil Kapoor starrer Fanney Khan trailer- 
Her energy, dance moves, everything 😍😍😍😍💖💖💖💖💖💖💖 #FanneyKhanTrailer 😭😭😭 #AishwaryaRaiBachchan you are the best pic.twitter.com/35K14T2RwQ

— Aishwarya Rai Lover❤ (@Ani_Loves_Aish) July 6, 2018
I like the trailer.
Has a very happy, light feel to it.
And the casting seems perfect.
The newcomer girl seems like a good actor too.#FanneyKhanTrailer

— Aman (@cadence99) July 6, 2018
The most pleasant surprise in #FanneyKhanTrailer is the chemistry bw @RajkummarRao and Aish. Charming! They deserve an intense romance film.
P.s: Ash looks divine here! pic.twitter.com/FEay6uC1sC

— Srivatsa (@vatsanarayan) July 6, 2018
Loved the trailer... Here's #FanneyKhanTrailer... #FanneyKhan stars Anil Kapoor, Aishwarya Rai Bachchan and Rajkummar Rao... Atul Manjrekar directs... 3 Aug 2018 release... Link: https://t.co/XiCwh9JJSE

— taran adarsh (@taran_adarsh) July 6, 2018
#AishwaryaRaiBachchan looks mesmerizing. Flawless on screen. @AnilKapoor rules at the age of 61. Wine only gets better with age. #RajkumarRao is magnetic #FanneyKhanTrailer

— Jdip S. (@JdSubhashis) July 6, 2018
#FanneyKhanTrailer. In one word , fabulous. Ode to the imperishable  Nightingale @mangeshkarlata . Also a homage  to Aishwarya's abiding aura, @AnilKapoor's evergreen zest and  @RajkummarRao and @divyadutta25's versatility. @TSeries

— SubhashKJha (@SubhashK_Jha) July 6, 2018
yaaaaaaaaaay i can't believe this , They're in the rain can't wait this song 😭😭😭😭😭😭😭😭😭 #fanneykhantrailer #AishwaryaRaiBachchan @TSeries @AnilKapoor pic.twitter.com/wynYgqX0zs

— Aishwarya Rai (@my_aishwarya) July 6, 2018
She is back with a bang.💥💥💥#AishwaryaRai Mam you looks terrific in trailer, I loved it..👌😘
Can't wait to see you on bigscreen..#FanneyKhan #3rdAugust #AishwaryaRaiBachchan #FanneyKhanTrailer pic.twitter.com/mzYgV8HRU5

— Shiv Dutta 🌠 (@imshiva17) July 6, 2018
This is late but I just watched the #FanneyKhanTrailer and I have tears in my eyes. Can't wait to watch it.

— Shaziya Shaikh (@snugglingbooks) July 6, 2018
Directed by Atul Manjrekar', Fanney Khan is inspired from Dutch film Everybody's Famous. The movie is all set to hit the screens on August 3.