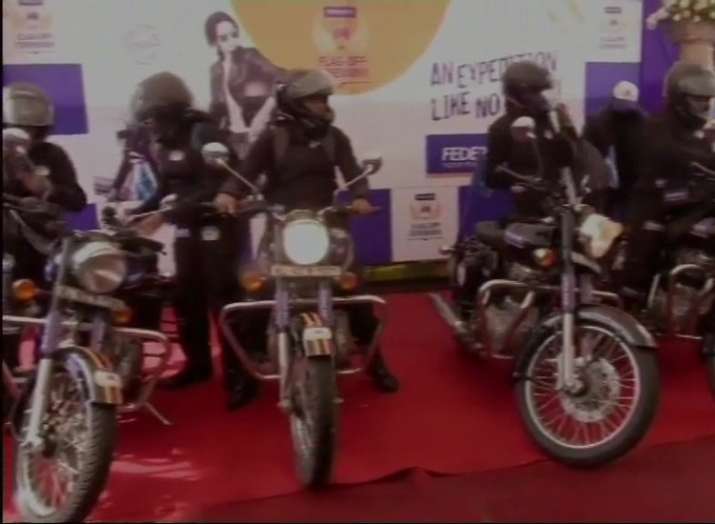 In a time when we hear more about women getting raped at various places, this group of 6 women decided to send out a message of gender equality by riding on their hot wheels from Kochi to the capital city New Delhi. The girl gang includes Lavanya N, Merilyn Hamlet, Surya Ravindran, Seetha V Nair, Febina K B and Sangeetha Sikhamani who are all employees of Federal Bank. They have started off their 20-day long journey from Ernakulam on August 1.
'Federal Bank Motorcycle Angels' as they are known, are all set to break stereotypes and prejudices and let the world know how capable and strong women of today are. It all started when Federal Bank's CSR and Marketing departments made an announcement in May inviting women employees to participate in the Bullet ride. Out of the hundreds that applied, "only six were selected for the journey," says Rajanarayanan N., Head of Marketing, Federal Bank.
Kochi: Federal Bank Motorcycle Angels, a group of six women employees of Federal bank, have started an expedition to Delhi, on motorcycles, with the message of gender equality & women empowerment. The six women will cover the approx distance of 3000 km in 20 days. #Kerala (01.04) pic.twitter.com/NUx3pQsFKg

— ANI (@ANI) August 2, 2018
The approximately 3000 km expedition will take them across Ernakulam, Coimbatore, Salem Bangalore, Chitradurga, Hubli, Kolhapur, Pune, Mumbai, Surat, Ahmedabad, Mount Abu, Udaipur, Chittorgarh, and Jaipur and will culminate in Delhi.
The eldest of the group is a Delhihite herself, Seetha V. Nair 40, and the youngest is Lavanya N. from Bengaluru, 21. While the women are confident to send out their message of women empowerment and gender equality, none of them are trained riders. In fact, they learned to ride as a hobby.
It is also said that each participant was given a new Royal Enfield Classic 350 Bullet two weeks before the ride. "This is so they could familiarise themselves with the vehicle," says Rajanarayanan. The bikers, however, do not get to keep the bikes after the ride. "We will most probably auction off the bullets and the proceeds will be given to NGOs working with women."