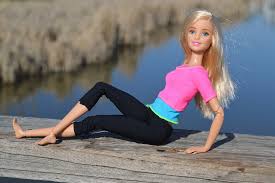 If you scroll through Instagram, then you will come across girls posing with legs looking even longer than usual. Introducing "Barbie feet", the pose which makes you and your legs look way longer, just like a Barbie, simply from pointing your toes. The term was coined by fashion blog Who What Wear after models and bloggers alike were seen with the pose with their toes pointed and heel up. The simple trick has the benefit of elongating your legs in pictures (which always comes in handy) as well as giving you something to do with your body rather than just awkwardly folding your arms.
The latest trend, which involves standing on your tip toes or pointing your feet, was given the name because of the way it resembles a Barbie doll's feet.
This position also makes the legs look longer, thus making it especially popular while wearing a swimsuit.
What is Barbie feet?
Girls all round the world are doing Barbie feet because it provides a handy optical illusion that you've grown a couple of inches and that your legs look more slender and longer. It should look like you're wearing an invisible pair of high heels.
How to do Barbie feet
To perfectly master Barbie feet, you put one leg in front of the other with the front leg bent, and arch your foot pointed downwards so you're standing on the ball of your toe. 
Many women including Hollywood stars and models-- who are simply genetically blessed with great bodies--graced this trend.
The list of celebrities who've adopted the Barbie feet pose reads like the rundown for a Victoria's Secret fashion show: Bella Hadid, Chanel Iman, Victoria Justice, various Kardashian/Jenners, plus countless "influencers".