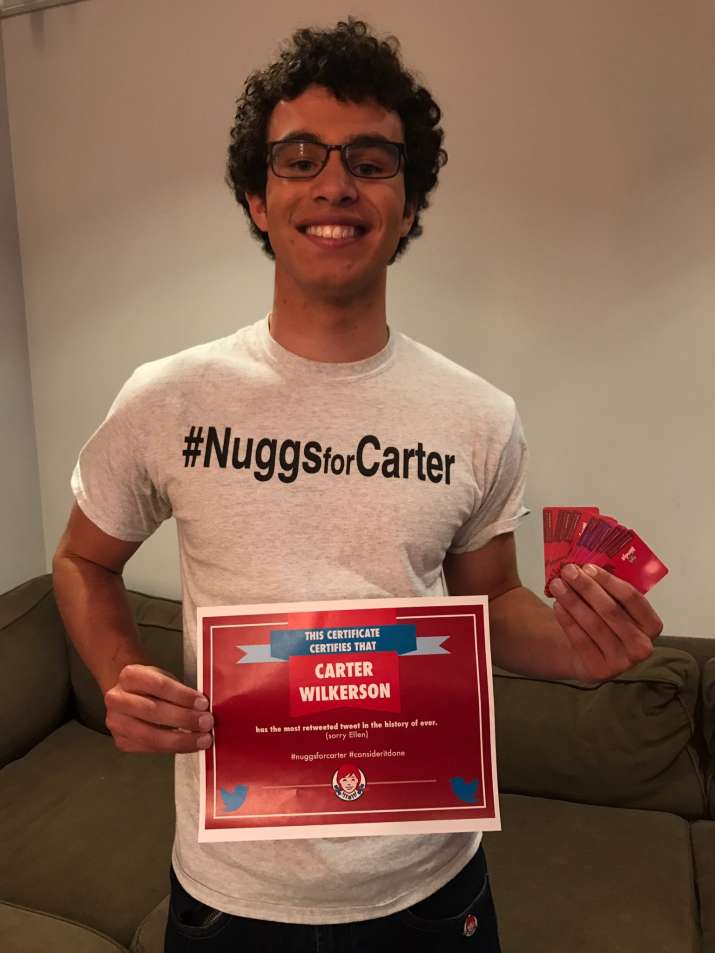 Silly internet distraction? Could be for some, but this guy got an year's free supply of chicken nuggets because his plea for free nuggets became viral tweet! Yes, it even beat Ellen DeGeneres' record of most retweeted tweet of an all-star Oscar selfie. 
This is how it all started. Last month, a teenager from Reno, Nevada, Carter Wilkerson, sent a random tweet to Wendy's asking how many retweets they needed to give him free nuggets for one year, probably laughing it off, a response from Wendy's popped. It said: 18 million.
Carter, with just 120 followers that time replied unabashedly: "Consider it done"
#NuggsForCarter became the sensational hashtag that caught America's fancy like no Hollywood celebrity can. Google, LinkedIn, Microsoft -- and practically everyone retweeted his plea. Since then, his followers swelled to a mammoth 114K and he is a proud owner of a coveted verified Twitter account. Not to mention, the lucky guy's tweet has become the most retweeted tweet of all time beating Ellen's tweet that was the topper with an all-star Oscar selfie tweet.
Much to Carter's delight, GuinnessWorldRecords tweeted: Congratulations to @carterjwm who just broke @TheEllenShow's record for most retweeted tweet on @Twitter #NuggsForCarter.
While the tweet has become the most retweeted in history, it is still not 18 million. However, Wendy's not just announced free nuggets for Carter, it also pledged a $100,000 donation to a children's adoption foundation in his name.
The story got a mention in Mashable , USA Today and countless other media publications around the world. Well, for Wendy's it looks like they got for free, the smartest advertising they wouldn't have got even after spending double the amount! Win-win for all. eh?
Let's see where Carter's tweet reaches.