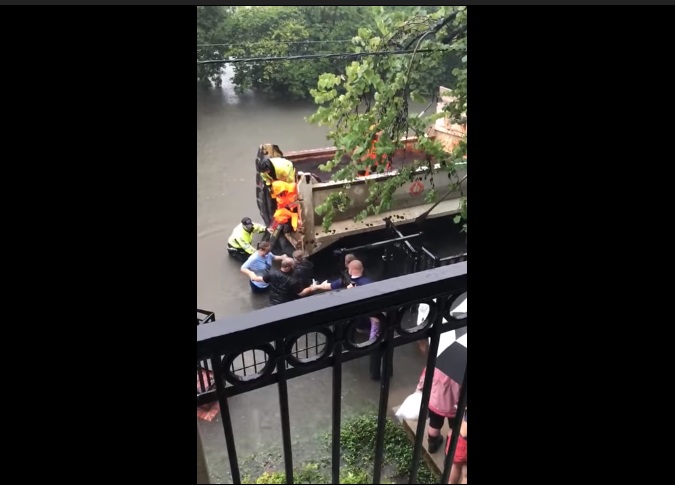 Houston is afflicted by floods following storm Harvey, that left 31 lives so far. The death toll is expected to rise and the flooding subsides. Although the flood has brought everyone's life on a standstill, but it posed a greater danger to Greg Smith and his pregnant wife. The floodwaters was rising outside his apartment in Houston, Texas due to Harvey and his pregnant wife Andrea Smith needed to be escorted to hospital as she was about to go into labour soon. He planned to drive to the hospital on Sunday morning, but 3-feet water on streets made it impossible to drive. 
Greg tried to contact 911, US emergency helpline number, but of no help. Greg's mother, Sue Chor, who was there the help the couple finally reached out the National Guard, only to know that they wouldn't be able to arrive soon enough. 
Also Read: Horrifying! Massive colony of 'fire ants' found floating in Houston water after Harvey
The Smiths were trapped and their baby could be arriving anytime soon. They started preparing for a home birth, Greg, though a doctor was not trained in obstetrics. But luckily, their apartment complex housed many medical professionals. 
"Mid-morning my downstairs neighbor went into labor. The couple couldn't reach 911, so a complex wide email was sent out asking for nurses and OB's... Suddenly our building was filled with others from our complex showing up to help!" writes Molly Akers, a neighbour, on Facebook..
Someone rang up to a person whose father lived across the street from a fire department. He managed to wade through the flood waters and inform the department about the family's plight. 
In less than an hour, a huge truck arrived to escort the couple to the hospital. Everyone came together to help pregnant Andrea through the waist-deep water forming a human chain. 
Also Read: Aamir Khan donates Rs 25 lakh for Bihar flood relief
"I just kind of held on to them one person at a time and crawled along their arms until the firemen helped me up the ladder onto the truck," said Andrea to ABC News
The complete incident was recorded on the camera and now the video is being circulated online to restore the lost faith in humanity. 
Smiths became proud parents of a baby girl, Adrielle on Sunday morning. Greg revealed that his wife suffered two miscarriages before this. 
"We had two miscarriages before this," said Greg to People.com. "Everything about this pregnancy we said is God's will. That's why her name is Adrielle. It means she belongs to God."
For more such stories, Follow India TV Showbiz page on Facebook.