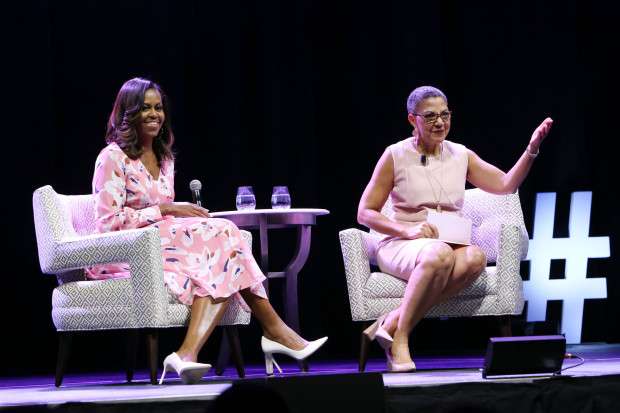 Ever since she left the White House, it was Michelle Obama's first appearance in Colorado. The iron-lady Michelle Obama had a special message for women; seize your power and don't let go. She was speaking for an armchair conversation in front of 8,500 people. Relaxed and composed, as she always is, Michelle spoke about education for girls, health and nutrition and women empowerment. She worked on all these things when she was in the White House as the first lady. At the Pepsi Center, the 30th anniversary of Women's Foundation of Colorado on Tuesday, Michelle Obama spoke about diverse topics in her speech. 
The WFCO and CEO Lauren Casteel lauded Michelle for breaking the glass ceiling by becoming the first black lady. She then asked the former first lady that which falling glass shard cut the deepest. 
"The shards that cut me the deepest were the ones that intended to cut," she said, indicating being called an ape and people talking about her bottom. Knowing that after eight years of working really hard for this country, there are still people who won't see me for what I am because of my skin color." 
Also Read: US becoming an increasingly Muslim-unfriendly country: Survey
The former first lady says she didn't pretend like it didn't hurt because that would give the perpetrators the liberty to hurt again. 
"Women, we endure those cuts in so many ways that we don't even notice we're cut," she said. "We are living with small tiny cuts, and we are bleeding every single day. And we're still getting up."
Obama uplifted the women by saying that women should own their scars. She said that the wounds of failure might hurt deeply but they will eventually heal with time. If women own their scars, they can help the younger girls dealing with their first cuts. Michelle Obama stayed largely away from politics by she took a shot at the current president, for which she received cheers from the crowd. She informed the crowd that she won't be seeking public office, which led to collective dismay of the crowd. Michelle reveals that she and her husband, former President of the United States, Barack Obama intend to stay in touch with the public service. 
Also Read: US bans its citizens from travelling to North Korea
Michelle also warned about the concern that the nation is falling apart. She said that it's a young country that will resurrect by learning from its own mistakes and failures. 
"The people in this country are universally good and kind and honest and decent," she said. "Don't be afraid of the country you live in. The folks here are good."
She had a special message for women of the country. Instead of waiting for the national policies, women need to take control of their own life and community. And for men, it is important to eb a part of their girls' lives and value their thoughts and voices. 
During Tuesday's conversation, Michelle Obama steered clear of politics and focussed on topics she was advocating while she was the first lady. The WFCO event is a fundraiser for the organisation. Among the prominent speakers were Lt. Gov. Donna Lynne, former first lady of Colorado and WFCO co-founder Dottie Lamm and Denver Mayor Michael Hancock. WFCO was established in 1987 to voice the concerns about feminizations of poverty as Colorado and areas across the world  observed women more likely to live in poverty. 
For more Trending news, follow our Facebook page