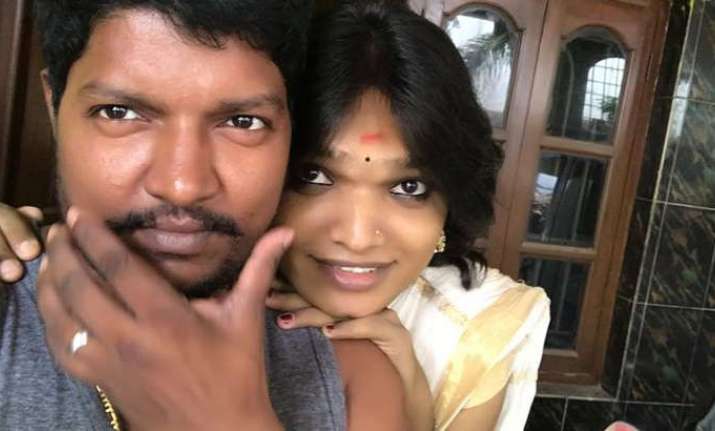 Some love stories are meant to inspire us to fight against all odds, societal norms and pressures. It is impossible to guess when the cupid would play its game and make two people fond of each other. Some thing similar happened with Bindu and Chandu of Kerala who went to a Mumbai hospital for their respective gender reassignment surgeries three years ago. Now Bindu is Aarav Appukuttan, 46 and Chandu is Sukanyeah Krishnan, 22 and the couple are planning to take nuptial vows next months. Their accidental meeting progressed through friendship and love before ending on marriage.
Both Aarav and Sukanyeah were having gender identity disorder. While Bindu who is now Aarav felt himself to be a man trapped in a woman's body, Chandu associated himself with a girl.  Aarav met Sukanyeah at her first appointment in the hospital in which he had earlier undergone surgery. Sukanyeah told Mid-day that Aarav eavesdropped while she was talking to her relative in Malayalam over a phone. Common mother language introduced them to each other after which they began chatting. During the three-hour-long wait, they became so much interested in each other that they exchanged their contact numbers.
Later, Aarav went to Kerala and Sukanyeah returned Banagalore for her job but their closeness only grew with time. Sukanyeah said that they had many things in common apart from the disorder and they used to discuss those issues during telephonic conversations. Their troubled childhood, lack of family support and their common future goals of helping kids with GID made sure that their talks never end. They booked the second appointment in the hospital on the same date only to realise that they have fallen in love.
It was tough for them to convince their parents about the trauma that they were undergoing earlier. Aarav lost his parents a few years back and Sukanyeah's mother remarried after her father died. Hence, both of them became each other's backbone during the transition. The couple is now all set to tie the knot in a temple next month and are planning to adopt a child later.