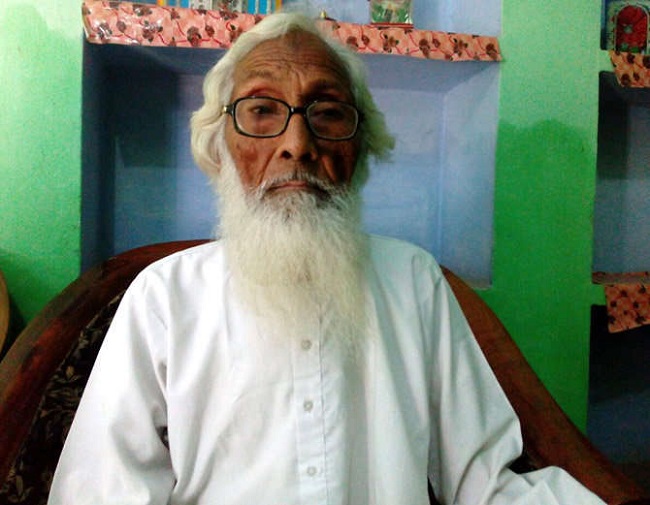 Let's know something about Hayat Ullah, a Muslim man who earned accolades for his proficiency in Sanskrit. And not only this, he earned the title of 'Chaturvedi' for his vast knowledge in the primary liturgical language of Hinduism. His full name is Hayat Ullah Chaturvedi, who is a teacher by profession. The 75-year-old man is out-and-out dedicated to spreading knowledge of Sanskrit among the masses. 
Hayat Ullah was fond of Sanskrit from a very young age. Born in a Muslim family, but he didn't let his religion come in the way in his love for Sanskrit. He believes in the notion of unity and integrity, and find it even greater than any religion in the world. He lives in Kaushambi district of Uttar Pradesh and is a retired teacher. Though he has retired from his service, but this didn't stop the man from spreading knowledge of Sanskrit. The man believes that a language has a power to break the walls between the religions,  and it is, therefore, the need of an hour. 
Hayat Ullah is well-versed in all four Vedas and was honoured with the title of 'Chaturvedi' in the year 1967 at a national convention. He was a Sanskrit teacher at MR Sherwani Inter College and retired in the year 2003. After retirement, he went to Mehgaon Inter College to teach Sanskrit. Hayat Ullah has also writer a number of books in Sanskrit and even conducted seminars to promote Sanskrit in countries like America, Mauritius and Nepal. 

This 'Muslim' Sanskrit scholar is respected and love immensely by his students. His students are proud of him and are obliged to receive knowledge from a great man like Hayat Ullah 'Chaturvedi'.