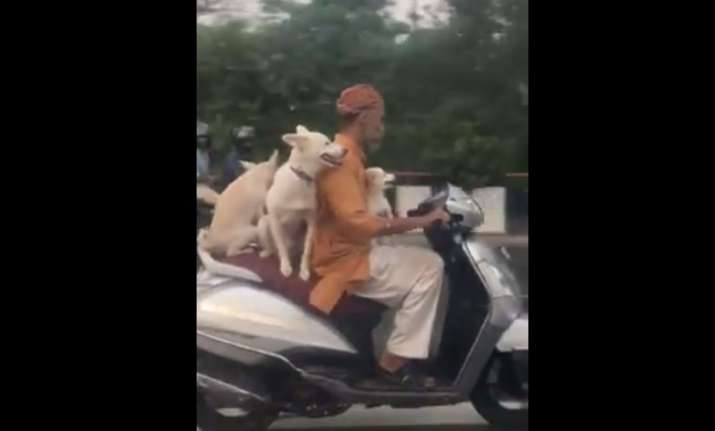 Everyday on Facebook we come across a number of such videos with transcends all the bounds of bizarreness. A man sleeping with a snake, a woman breaking bricks on her chest or a dog on a skateboard. Another out of the ordinary video surfaced on Facebook a few days ago. It shows a man riding his scooter while his three dogs sitting pillion. This video went viral of social media. It was shot by Kahaan Baxi and was seen at an intersection of ITO and Vikas Marg in New Delhi. 
The peculiar thing about the video is that the two dogs sitting just behind the rider aren't tied or holding on to anything. The third puppy is held by the man himself, perhaps because he's too young to handle himself on a moving scooter. The rider is using his one hand to accelerate the scooter. None of the two puppies seems to be losing balance off the seat. 
Watch the video here: 
You might enjoy this unusual sight of doggies enjoying the scooter ride, but after the couple of seconds of video, it will make you very sick inside. However entertaining the video might be, but it raise several questions on road safety in the capital. Firstly, the man is driving a scooter using one hand, which in itself is quite dangerous to do on busy roads of City. Secondly, the dogs sitting pillion might lose their balance and fall off the scooter. This can cause severe accidents or the dogs can get run over by the speeding cars. 
Also Read: Viral Video: A Kerala Priest dancing impromptu with youngsters is breaking the internet for all good reasons!
The video has been shared over hundred times and watched by more than 30,000 Facebook users. Many people even commented that they've seen the dog and the rider many times before as well. Though this video entertained many, but few mindful users also commented about the safety risk involved in doing such kind of stunt on a busy road. 
For more related stories, visit the Buzz section