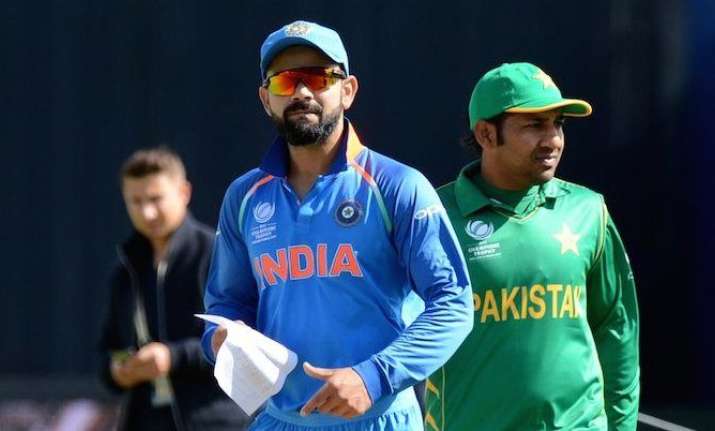 India is ready to take its arch-rival Pakistan on the cricket field at Champions Trophy 2017 finals which is being held at the Oval, England. As the time for the battle approaches near, people from both the sides of the border couldn't contain their madness. The real clash is yet to begin on the ground, but the Twitterati are having their field days ever since India won the semi-finals against the Bangladesh team this Thursday. As the clock is ticking, thousands of good wishes are pouring in from around the country to wish the Indian Cricket Team their best. Here's how the cricket buffs are wishing the 'Paltan'. (INDIA VS PAKISTAN CRICKET MATCH - LIVE UPDATES | LIVE SCORE | SCORECARD / COMMENTARY)
Ranveer Singh, being an ardent sports enthusiast, couldn't hold himself from tweeting live updates on Twitter. 
JADDDDDDDDDU!!! 🇮🇳🤘🏾 @imjadeja What a catch!!! A testing one, but he made it look so easy! Come on now, COME ON!!! #INDvPAK

— Ranveer Singh (@RanveerOfficial) June 18, 2017

Ranveer Singh on ICC Champions Trophy 2017 finals IND v PAK
Tiger Shroff wishes the cricket team in his own peculiar style. Check it out.
Tiger Shroff gives out the loudest cheer for the Men in Blue! 😃#MainHoonChampion Star Sports #MunnaMichael #IndvPak #ChampionsTrophy pic.twitter.com/NGJZTI1wZg

— Eros Now (@ErosNow) June 18, 2017
King Khan also took to Twitter to cheer up team India for Champions Trophy final. 
All spruced up 2 cheer for CT17 Finals. Also excited to present the MiniTrails to the world #JabHarryMetSejal pic.twitter.com/hPZDXz1uFo

— Shah Rukh Khan (@iamsrk) June 18, 2017
To this, former Australian cricketer Shane Warne wished Team India and Shah Rukh Khan for the impending Champions Trophy finals. 
Thank u mate. Been so long since we met. Be well & enjoy the match. https://t.co/kEyCJwUfDU

— Shah Rukh Khan (@iamsrk) June 18, 2017
This started the friendly conversation between SRK and Shane Warne. 
Yeah sure in my dreams I would ever be able to smash u around!! Ha ha https://t.co/NoG5NDh0Pv

— Shah Rukh Khan (@iamsrk) June 18, 2017
West Indies cricketer Darren Sammy also promoted positivity regarding the sports and wished may cricket win the game. 
Cant tell who is winning by the outfits of @waqyounis99 & @ImZaheer.let's have a cracker at the oval and let cricket be the winner.#INDvPAK pic.twitter.com/4uX0UdDaKk

— Daren Sammy (@darensammy88) June 18, 2017
Indian standup comedian posts a hilarious analysis of ongoing sport in the country. 
#INDvPAK in cricket.#IndvJapan in badminton.#INDvPAK in hockey.

Today is an #INDvPAK sandwich with Japanese filling.

— Sorabh Pant (@hankypanty) June 18, 2017
There are many tweets which is pouring negativity in every sense. Some people couldn't digest the fact that this is just a sport and not a war. 
Pakistani fans praying for their team😋#INDvPAK pic.twitter.com/Nbl2U6iBZL

— Legion (@legion__group) June 18, 2017
But thanks to the gumption of few, who are rooting for Team India without offending anyone. 
Lets all root for Blue today and zor ses bolo Jio Dan Dana dan! #INDvPAK #CheerForIndia

— DeepaK (@imdeepak1143) June 18, 2017
Every once in a while, cricket turns our blood blue! #bleedblue 
Even we all root for Blue. India khelbo and jeetbo today #INDvPAK #CheerForIndia

— Vishal (@vishalkalia2) June 18, 2017
Even before  India have won the semi-finals, the cricket fanatics were confident that it's going to be India vs Pakistan in the finals. 
When you're a cricket fan as well as a Shah Rukh Khan lover, you know how today is going to special for you in all the ways. After all, Jab Harry Met Sejal mini trail is going to be out today. DOUBLE VICTORY! Here's how Shah Rukh Khan announced the news.
We are not sure what happened Jab Harry Met Sejal, but we are sure to have fun on #OPPOCricketLive! Catch @iamsrk tomorrow on Star Sports! pic.twitter.com/miS9QRidXi

— Star Sports (@StarSportsIndia) June 17, 2017
Best Sunday of this year..
1 #INDvPAK
2 #JHMSPromoOutToday
3 Got Job in my dream game studio. As a game designer.😘😘😘😘😘😘😘😘😘💃💃💃

— Mayank (@mayankr268) June 18, 2017
Just before the match, Virat Kohli shares his golden thoughts on social media, sportsmanship and Pakistani team. The Captain praises the rival team for immense talent they have in their team. Virat Kohli also have an advice for the sportspersons around the world- stay away from social media
Virat Kohli before the match in PC.

'Biggest learning is to stay off social media' - Kohli #INDvPAK #CT17Final pic.twitter.com/U4yfN23kFA

— Cricketing World (@TheCricWorld) June 18, 2017
Meanwhile, on Father's Day, Mahendra Singh Dhoni's picture with Sarfraz Ahmed's son is trending on Twitter for all the right reasons. Amid the Twitter war, it is the best thing on internet today. 
This photo of MS Dhoni with Sarfraz Ahmed's son Abdullah is the cutest thing that you'll see today: #PakvIND #INDvPAK pic.twitter.com/EyTpAHbIb6

— Naila Inayat (@nailainayat) June 17, 2017