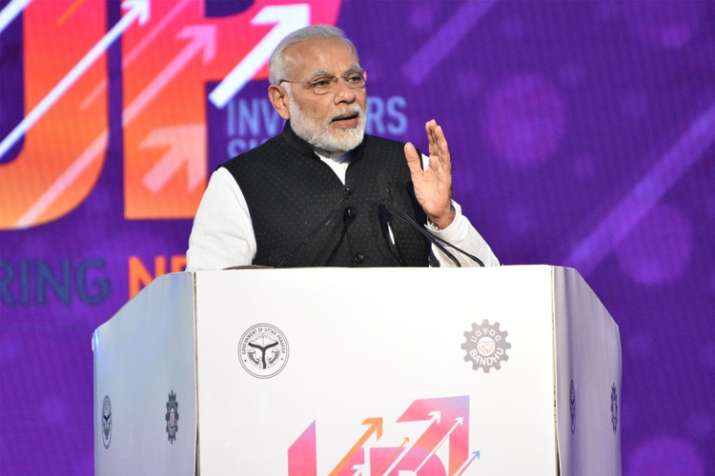 Prime Minister Narendra Modi on Wednesday inaugurated the two-day 'Uttar Pradesh Investors Summit 2018'along with UP Chief Minister Yogi Adityanath. The event aims at changing the image of the country's most populated state and make it an investor-friendly destination. 
PM Modi announced that the government would establish a defence industrial production corridor in Uttar Pradesh at an estimated cost of Rs 20,000 crore that would also generate 250,000 jobs.
"I am making an important announcement. In this year's budget, we had announced that we will establish two defence industrial production corridors. One of them will be in Uttar Pradesh," Modi said addressing the 'Investors Meet' here.
The event organised by the Yogi Adityanath government is aimed to showcase the investment opportunities in the state. Corporate honchos are attending the summit.
The Prime Minister said the decision was taken keeping in mind the developmental requirements of Bundelkhand region. 
The corridor will link Agra, Aligarh, Lucknow, Kanpur, Jhansi and Chitrakoot, he said.
The government had earlier announced that it would develop two such corridors. The first of the two runs between Chennai and Bengaluru - connecting Kattupalli port, Chennai, Tiruchi, Coimbatore and Hosur.
Modi also praised the Uttar Pradesh government for curbing red tape and rolling out red carpet for investors and taking decisions that have linked industrial development with employment generation.
"There is no dearth of resources and opportunities in Uttar Pradesh where you find 'Lucknowi chikankari', 'Banarsi zardosi', brassware of Moradabad and glassware industries of Firozabad," Modi said.
He also asked the Uttar Pradesh government to compete with Maharashtra in achieving a target of one trillion dollar economy.
"I set this challenge before Uttar Pradesh to compete with Maharashtra and let us see who will become the first trillion dollar economy," he said.
He said Uttar Pradesh today was the number one state in the production of grains, wheat, sugarcane, milk and potatoes in the whole country. 
It is also the second largest producer of fruits and third largest producer of vegetables in the country. 
PM Modi also highlighted that the UP government has initiated a new bio-policy in the state to reduce crop-grain-fruits and waste of vegetables.
Addressing the summit, the Prime Minister said the new policy will help in doubling farmers income by 2022.
"A new bio-policy has been initiated in the state. The Prime Ministerial Kisan Property Scheme has been introduced by the central government to reduce crop-grain-fruits and waste of vegetables," the Prime Minister said.
"The entire supply chain and infrastructure are being modernized under this scheme. This will help us in doubling the farmers income by 2022," he added.
The mega event is being organised to bring together heads of states and governments, ministers, leaders from the corporate world, senior policy makers, heads of international institutions and academicians from around the world to further the cause of economic development in the state and promote cooperation to pave way for better investments, according to an official statement. 
More than 5,000 delegates are scheduled to attend the two-day summit and over 100 speakers will be addressing gatherings. 
There are a total 30 sessions scheduled to be held in two days, during which representatives from Mauritius, Japan, the Netherlands, Finland, Czech Republic, Thailand and Slovakia will also be participating, Industrial and Investment Development Commissioner Anup Chandra Pandey said. 
Union ministers Rajnath Singh, Nirmala Sitaraman, Ravi Shankar Prasad, Smriti Irani, Piyush Goyal and Dharmendra Pradhan, along with others, will be present during the sessions, he said. 
Top industrialists, including Gautam Adani, Mukesh Ambani, Subhash Chandra, N Chandrashekharan, Anand Mahindra, KM Birla, Shobana Kamineni, will also be addressing various sessions.  
Watch PM Modi's speech at Uttar Pradesh Investors Summit 2018: