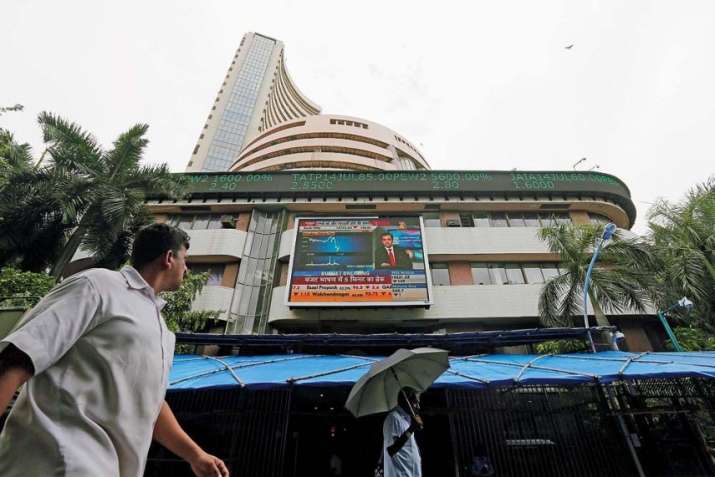 The BSE Sensex on Wednesday rose by nearly 267 points to hit a near two-week high of 35,645.40 on bouts of buying towards the fag-end of the session, mainly in bank and auto shares, after the Centre hiked MSP for most kharif crops. 
The benchmark index moved in a narrow range for most part of the day due to weak global cues amid concerns related to trade tariff spat and macro-economic conditions but the late buying in some key sector stocks helped the Sensex come out of range-bound trading. 
Consistent buying by domestic institutional investors and encouraging services PMI data for June also helped in lifting trading sentiment. 
In a major fillip to the farm sector, the government today approved a steep hike in the minimum support price (MSP) of 14 kharif crops, which will cost the exchequer more than Rs 15,000 crore. 
"After an insipid start, the market gained momentum on account of better auto sales and government's announcement of increase in MSP. Rural income and spending power will increase due to higher minimum price and progressing monsoon which may result in higher demand for consumption oriented stocks...," Vinod Nair, Head of Research, Geojit Financial Services Ltd, said. 
Meanwhile, the services sector returned to growth during June and registered the fastest rate of expansion in a year, supported by robust increase in new business orders, said a monthly survey. 
The BSE 30-share Sensex started on a positive note at 35,385.52 and advanced to the day's high of 35,667.31 before ending at 35,645.40 -- a near tow-week high -- up 266.80 points, or 0.75 per cent. 
The 30-share BSE gauge closed at 35,689.60 on June 22, 2018. 
The Sensex today touched the day's low of 35,309.67. 
It had gained 114.19 points in the previous session. 
The NSE Nifty, after hitting a high of 10,777.15, closed at 10,769.90, up 70 points, or 0.65 per cent. It touched a low of 10,677.75 intra-day. 
Meanwhile, on a net basis, domestic institutional investors (DIIs) bought shares worth Rs 278.84 crore, while foreign portfolio investors (FPIs) sold equities worth Rs 1,043.31 crore yesterday, provisional data showed. 
European markets fell at the start of trade, tracking weak global cues. 
Major players in the paddy space such as Kohinoor Foods rose 12.96 per cent, followed by LT Foods 7.01 per cent and Chaman Lal Setia exports 2.27 per cent. 
Most fertilizer stocks also rose, led by Shiva Global Agro Industries surged 9.33 per cent, followed by Coromandel Agro Products 4.88, Fertilisers and Chemicals Travancore (FACT) 0.77 per cent and Gujarat Narmada Valley Fertilisers & Chemicals (GNFC) 1.68 per cent. 
European stock markets also started lower with global trade concerns still hovering over markets, as China readies tariffs on the US and the EU looks at mustering big auto-making countries to agree on a new trade deal. Paris CAC shed 0.10 per cent and Frankfurt's DAX traded lower by 0.20 per cent in their early trade. London's FTSE too was down 0.30 per cent.