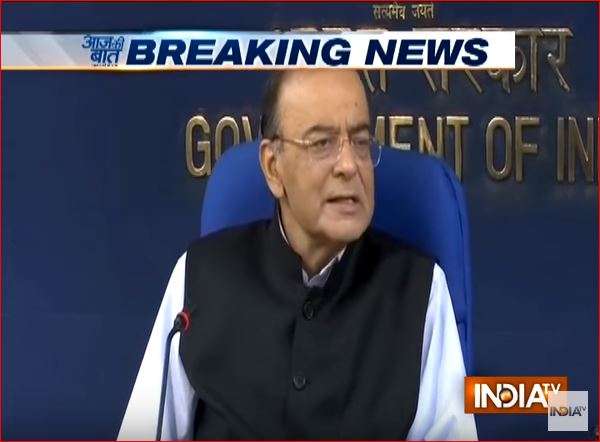 Finance Minister Arun Jaitley on Wednesday defended devaluation of Indian Rupee against the US Dollar even as it hit the lowest ever mark of 71.96 today to end at 71.75 per USD. The battered rupee has lost 165 paise in the last six trading sessions.
"If you look at the domestic economic situation and the global situation, there are virtually no domestic reasons which are attributable to this. The reasons are global," he told reporters on the falling value of rupee.
He further said the dollar has strengthened against almost every other currency and added that the rupee has consistently either strengthened or remained in a range. The finance minister argued that Indian Rupee was not the only currency to be hit in the current global economy and if anything, INR strengthened vis-a-vis other international currencies in last four-to- five years. 
"We must bear in mind that dollar has strengthened against almost every currency. The Rupee has either consistently strengthened or remained in a rage, not weakened," Jaitley said, adding that Rupee was in stronger position as compared to most of the other currencies of the world, 'compared to what it was 4-5 years ago'. 
He added, "RBI is certainly doing whatever is necessary. I don't think there is any need for the world's fastest-growing economy to come out with panic and knee-jerk reactions."
By the end of trading today, Rupee declined 17 paise against the US dollar to close at 71.75.  That marked the sixth consecutive session with the rupee settling lower against the US currency. 
While crude oil prices rose further in anticipation of tightening supply, buying of the dollar by banks and importers along with strengthening of the US currency overseas dragged the rupee lower. 
The rupee hit-a lifetime low of 71.96 against the US dollar, before settling at 71.75 for the day. Analysts expect the rupee to continue to be weak till oil prices ease. Suspected central bank intervention contained the magnitude of the rupee's fall. 
Watch detailed coverage of the news on India TV's special show Aaj ki Baat: