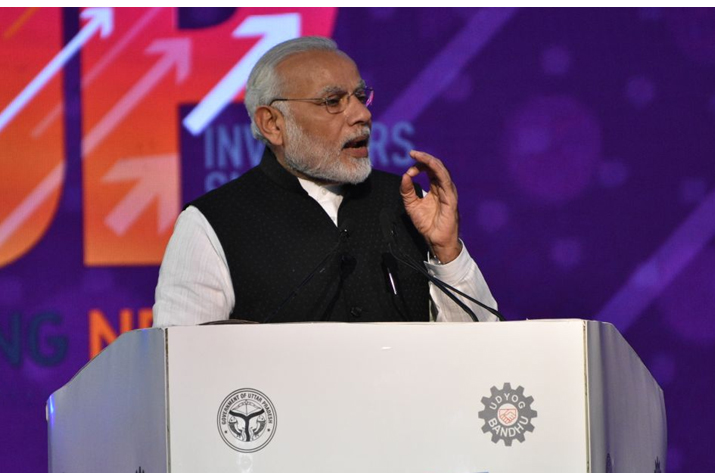 Prime Minister Narendra Modi on Wednesday inaugurated two-day 'UP Investors Summit' here that aims to change the image of the country's most populated state and make it an investor-friendly destination.
The Summit, first such event by the Yogi Adityanath government, showcases investment opportunities and potential across various sectors in Uttar Pradesh. President Ram Nath Kovind will attend the valedictory function on the second day. 
The mega event is being organised to bring together heads of states and governments, ministers, leaders from the corporate world, senior policy makers, heads of international institutions and academicians from around the world to further the cause of economic development in the state and promote cooperation to pave way for better investments, according to an official statement. 
More than 5,000 delegates are scheduled to attend the two-day summit and over 100 speakers will be addressing gatherings. 
Highlights:
12:45 pm: PM Narenda Modi speaks about the new health care policy of the Central government. "No previous governments made this possible."
# The early implementation of MoUs will help generate more jobs: PM Modi
​
# PM Narendra Modi asks state government to implement all MoUs signed in the Summit at the earliest. The PM also notes that CM Yogi has promised to monitor the implementation of these MoUs personally. 
अगले वर्ष की शुरुआत में प्रयाग में कुंभ का भी आयोजन किया जाएगा। पूरे विश्व में ये अपनी तरह का सबसे बड़ा आयोजन होगा: PM @narendramodi

— PMO India (@PMOIndia) February 21, 2018
# Work to set up two new international airports in Khushinagar and Jewar underway. Last year, Uttar Pradesh showed 30% increase in air travel when it has less airports. This growth was higher than national average. Imagine what will be the growth when all the airports proposed by us come up: PM Modi
​​
बुंदेलखंड के विकास को विशेषतौर पर ध्यान में रखते हुए, अब ये तय किया गया है कि यूपी में डिफेंस इंडस्ट्रियल कॉरिडोर का विस्तार आगरा, अलीगढ़, लखनऊ, कानपुर, झांसी और चित्रकूट तक होगा: PM @narendramodi

— PMO India (@PMOIndia) February 21, 2018
12:35 pm: In the Budget, the government had announced to set up two Defence industrial corridor. One will be set up in Uttar Pradesh. This defence industrial corridor will see investment of Rs 20,000 crore and will help generate jobs for 2.5 lakh people, says PM Modi
12:33 pm: PM Narendra Modi lauds policies of Yogi government, says Biofuel Policy and others will help the government in ensuring doubling the income of farmers by 2022 
12:27 pm: PM speaks about Mudra Yojana. He says the government has disbursed loans to more than 10 crore people without guarantees under the scheme.
Potential, policy, planning and performance leads to progress: PM Modi at #UPInvestorsSummit2018 in Lucknow pic.twitter.com/tieehgAnC0

— ANI UP (@ANINewsUP) February 21, 2018
12:24 pm: PM Modi asks UP to compete Maharashtra and become USD 1 trillion state economy.
Negativity भरे उस माहौल से राज्य को Positivity की तरफ लाना, हताशा-निराशा अलग करके उम्मीद की किरण जगाने का काम योगी सरकार ने किया है: PM @narendramodi

— PMO India (@PMOIndia) February 21, 2018
उत्तर प्रदेश आज अनाज के उत्पादन में, गेहूं के उत्पादन में, गन्ने के उत्पादन में, दूध के उत्पादन में, आलू के उत्पादन में, पूरे देश का नंबर वन स्टेट है। देश में दूसरे नंबर पर सब्जियों और तीसरे नंबर पर फलों का उत्पादन यहीं होता है: PM @narendramodi

— PMO India (@PMOIndia) February 21, 2018
12:20 pm: UP government fulfilling its commitment to farmers. Purchase of paddy has increased four times. Besides the sugarcane industry has also seen massive growth: PM 
मैंने पहले भी कहा है,
Potential + Policy + Planning+ Performance से ही Progress आती है। अब यूपी भी Super-Hit Performance देने के लिए तैयार है: PM @narendramodi https://t.co/nNpo5XLc8Y

— PMO India (@PMOIndia) February 21, 2018
12:15 pm: UP has potential to become growth engine of country: PM Narendra Modi
​
UP mein buniyaad tayar ho chuki hai jis par naye Uttar Pradesh ki bhavya aur divya imaarat ka nirmaan hoga: PM Modi at #UPInvestorsSummit2018 in Lucknow pic.twitter.com/cojlB1hSOc

— ANI UP (@ANINewsUP) February 21, 2018
# MSME sector reaps maximum employment opportunities after agriculture and UP has high scope for that: PM
# ​There is no dearth of resources and opportunities in UP where you find 'lakhnavi chikankari', 'Banarsi zardosi' and brassware of Moradabad and glassware industries of Firozabad: PM Modi
# ​PM Modi calls for looking at value addition in the values and virtues: Narendra Modi 
# PM Modi says not only the state government, people have also contributed to the development.
# CM Yogi Adityanath has come as a ray of hope for Uttar Pradesh, says PM Narendra Modi 
जब परिवर्तन होता है, तो सामने दिखता है।

उत्तर प्रदेश में इतने व्यापक स्तर पर इन्वेस्टर समिट होना, इन्वेस्टर समिट में इतने निवेशकों और उद्यमियों का एकजुट होना, अपने आप में एक बड़ा परिवर्तन है: PM @narendramodi https://t.co/nNpo5XLc8Y

— PMO India (@PMOIndia) February 21, 2018
# Holding investor summit in UP and congregation of industrialists from all over is sign of big change: PM Modi
12:10 pm: PM Narendra Modi speaks at Summit 
# A new tourism policy has been enforced. This policy is based on religion, heritage and eco-tourism which will promote tourism in the state: Yogi 
12:02 pm: CM assures industrialists that he will personally monitor the implementations MoUs signed in the Summit 
# More than 1000 MoUs have been signed worth Rs 4.28 lakh crore: CM Yogi 
# Government to provide single window digital clearance to industries 
11:58 am: Purvanchal expressway and Bundelkhand expressway to speed up development: CM Adityanath 
# Power for all being taken forward in state with the help of Central government: CM 
# Government aims to generate 40 lakh jobs in 3 years: CM Adityanath
11:51 am: To encourage investment, government has set up State Investment Promotion Board: CM Yogi
# In last few months, the state government has strengthen law and order situation in the state. We have taken steps to curb criminal activities across the state: CM 
# Detailed Project Report for Metro in Agra, Kanpur, Meerut prepared: CM Yogi 
# Today we are opening doors of opportunities, says CM Yogi Adityanath 
11:46 am: CM Yogi Adityanath speaks at Summit 
# Anand Mahindra also announces to invest Rs 200 cr in Varanasi in infrastructure projects 
11:09 am: Anand Mahindra announces to set up electric vehicle plant in Uttar Pradesh 
# Anand Mahindra says UP should be compared to other countries. UP's targets should not be compared to the targets of other states, instead to other countries 
11:05 am: Mahindra Group Chairman Anand Mahindra speaks at Summit 
# Kumar Mangalam Birala announces to invest Rs 25,000 crore in multiple businesses across the state 
10:56 am: Aditya Birla Group chairman Kumar Mangalam Birala speaks at Summit
# Gautam Adani promises to invest Rs 35,000 crore in the next five years in state
# Adani announces to construct storage infrastructure, multi-model logistic parks. He also announces that the group will set up 1,000 MW solar power project. Besides, the group will actively participate in road and metro projects across the state.
# There is a change in the global image of the country because of the Prime mMinister's efforts. India cannot grow without Uttar Pradesh. CM Yogi Adityanath's leadership is attracting new investments in the state: Gautam Adani
10:46 am: Adani Group Chairman Gautam Adani speaks at Summit 
# Reliance to execute whatever part of the Clean India Ganga mission is assigned to group 
# RJio to make 2 crore JioPhones available in UP in next two months: Mukesh Ambani 
# Reliance Jio to invest Rs 10,000-cr in 3 years, announces Mukesh Ambani 
# Jio will be present in every single village in UP by the end of 2018: Mukesh Ambani
Prime Minister Narendra Modi visits an exhibition, at UP Investors' Summit in Lucknow pic.twitter.com/31zfpOgLiQ

— ANI UP (@ANINewsUP) February 21, 2018
# We will together fulfill PM Modi's dream of making Uttar Pradesh a 'Uttam Pradesh'
10:37 am: Reliance Industries chairman Mukesh Amabni speaks at UP Investors Summit
10:15 am: PM Modi inaugurates two-day UP Investors Summit 
9:40 am: Prime Minister Narendra Modi arrives at Lucknow airport
Prime Minister Narendra Modi arrives in Lucknow, to attend UP Investors' Summit. pic.twitter.com/cwJvYa4SgU

— ANI UP (@ANINewsUP) February 21, 2018
Speaking to reporters, state industries minister Satish Mahana had yesterday said, "PM Modi and CM Yogi want to make UP a dream destination for investors, who are very excited to attend the summit. We want to make it a history. We have already signed 900 MoUs." 
There are a total 30 sessions scheduled to be held in two days, during which representatives from Mauritius, Japan, the Netherlands, Finland, Czech Republic, Thailand and Slovakia will also be participating, Industrial and Investment Development Commissioner Anup Chandra Pandey said. 
Union ministers Rajnath Singh, Nirmala Sitaraman, Ravi Shankar Prasad, Smriti Irani, Piyush Goyal and Dharmendra Pradhan, along with others, will be present during the sessions, he said. 
Top industrialists, including Gautam Adani, Mukesh Ambani, Subhash Chandra, N Chandrashekharan, Anand Mahindra, KM Birla, Shobana Kamineni, will also be addressing various sessions.