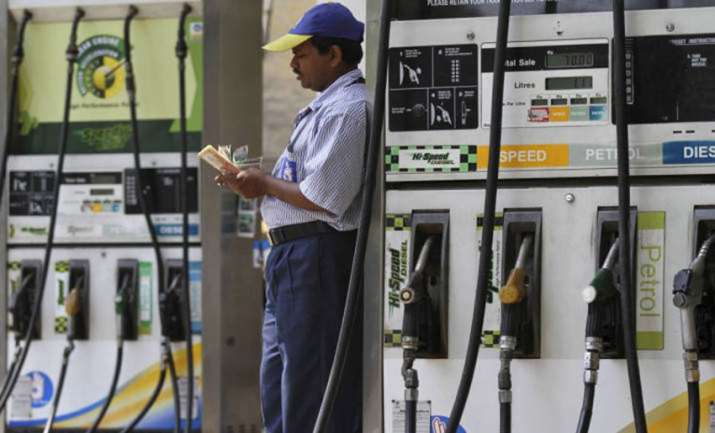 Prices of petrol and diesel witnessed a hike for the 12th consecutive day on Friday deepening the hole in the common man's pocket.
As per the Indian Oil Corporation (IOCL), revised petrol prices in metropolitan cities are Delhi Rs 77.83 per litre; Mumbai 85.65; Kolkata 80.47 and Chennai 80.80; whereas diesel prices are: Delhi 68.75; Mumbai 73.2; Chennai 72.58; Kolkata 71.30.
The Narendra Modi Government, which will be celebrating its fourth anniversary on Saturday, May 26, has come under severe criticism from the Oppostion over the skyrocketing fuel prices. 
Congress President Rahul Gandhi has threatened a nationwide stir if petrol, diesel prices are not brought down.
Taking a jibe at Prime Minister Narendra Modi after he accepted an online fitness challenge posed by Indian Cricket captain Virat Kohli, Rahul Gandhi dared the PM to take up the 'fuel challenge' and control the fuel price rise. 
"Dear PM, Glad to see you accept the @imVkohli fitness challenge. Here's one from me: Reduce Fuel prices or the Congress will do a nationwide agitation and force you to do so. I look forward to your response," Rahul Gandhi tweeted.
Union Minister for Petroleum and Natural Gas Dharmendra Pradhan on Thursday said the Centre would soon take quick measures to give some relief to the common people from the rising fuel prices.
On the other hand, Maharashtra Chief Minister Devendra Fadnavis said that fuel prices will come down once the Centre builds a consensus to bring petrol and diesel under the Goods and Services Tax (GST). 
"A task force is already working on reducing the fuel prices. If it (petrol and diesel) can be brought under GST, rates will come down. Maharashtra has already given its consent for it," Fadnavis told reporters in Mumbai.
Watch: Fuel prices continue to rise