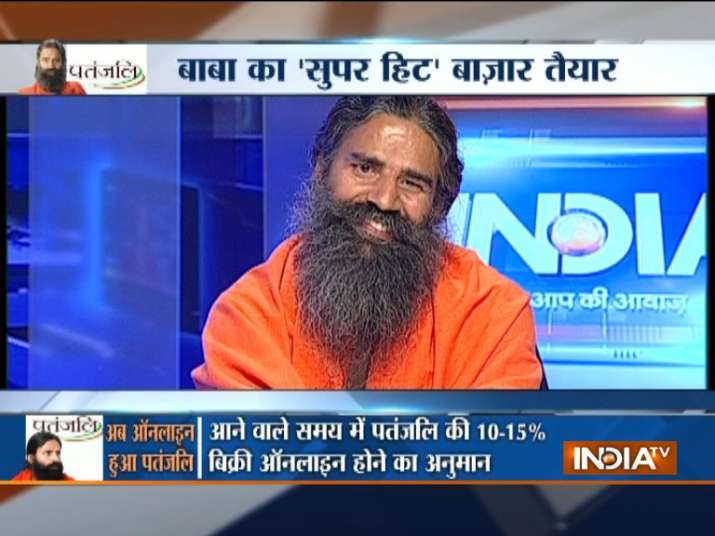 In a bid to tap the huge and ever increasing online market in India, Baba Ramdev today announced partnership of his Patanjali Ayurved with top e-commerce players including Amazon, Flipkart, Paytm Mall, Bigbasket , Grofers, netmeds, 1mg and Shopclues under the tagline "Haridwar to har dwar" (Haridwar to every door step online).
Baba Ramdev spoke to India TV and shared details on Patanjali's furture plans 
Highlights:
* I can assure the people of India that we'll not allow anybody to play with their health: Baba Ramdev
* I don't think any religion is being discriminated against in this country: Baba Ramdev
* Even a recent global survey said PM Modi is among most popular world leaders.
* I trust PM Modi and that's why I am maintaining a distance from politics: Baba Ramdev
​* I'm following "Yoga dharma": Baba Ramdev
* They are looting our country, the people of India should realise this and join "Swadeshi" movement: Baba Ramdev
* We have given jobs to more than 100,000 people. We'll give employment to 5 lakh people soon: Baba Ramdev
* Foreign companies have not done anything for India: Baba Ramdev
* We are going to make foray into apparel industry very soon: Baba Ramdev
* Within 3-5 yewars, Patanjali will be a brand worth Rs 100,000 crore: Baba Ramdev
* We are going to set up world's largest school in NCR: Baba Ramdev
* We have already spent Rs 11,000 crore on charity by now: Baba Ramdev
* We are going to establish Patanjali as a non-profit organisation: Baba Ramdev
* We are working towards achieving "Made in India" and "Made by Indians" objective: Baba Ramdev
* More than 5 crore people are searching our products online everyday. We plan to increase it to 10 crore daily: Baba Ramdev
Earlier in the day, launching the e-commerce platform "www.patanjaliayurved.net", Ramdev added that online sales have yielded good dividend that helped the Patanjali's sales cross Rs 10 crore mark in December 2017.
"Online mechanism aims to provide convenient and efficient option along with extension of traditional retail market," Ramdev said on this occasion.
Ramdev further said that Patanjali has been successful in delivering its product to over 10 lakh people per day.
The company estimated that shares of online sales will contribute 15 per cent in total turnover in future.
Ramdev said the company has created an annual production capacity worth Rs 50,000 crore.
"Besides, operational big units at Haridwar and Tejpur, work is in progress at full speed in Noida, Nagpur and Indore as well," he added.
To cater to the export demand, the company has initiated a "100 per cent export oriented unit" in Mihan SEZ (special economic zone), Nagpur (Maharashtra), Ramdev said.
According to the company, the export unit will facilitate export of Patanjali swadeshi products to the UAE, the US, Cananda, Europe, South America, African countries besides others.
Commenting on the partnership, Manish Tiwary, Vice President Category Management, Amazon India said: "We are committed to work together with Indian-grown brands with the aim of giving customers unique products combined with a delightful online shopping experience."
"For the next 3-4 years, FMCG and groceries are going to be the top prioroties for us. 'Haridwar se har dwar tak' resonates Flipkart's vision of making top quaity products available to customers at the best value, so this partnership benefits consumers in a big way," said Kalyan Krishnamurthy, CEO of Flipkart.
Congratulating the company on its recent launch, Commerce Minister Suresh Prabhu tweeted: "Congrats yogrishiramdev, Acharya Balkrishna, Vijayshekhar (founder of Paytm) for emerging as top FMCG, in short time. We shall promote exports of Ayurveda globally."
P.P. Acharya Balkrishna, Managing Director and CEO of Patanjali Ayurved, explained that with the new mechanism of collaborating with various e-commerce partners, the company will reach out to more people including the youth who prefer and use online platform for shopping more these days.
(With agency inputs)