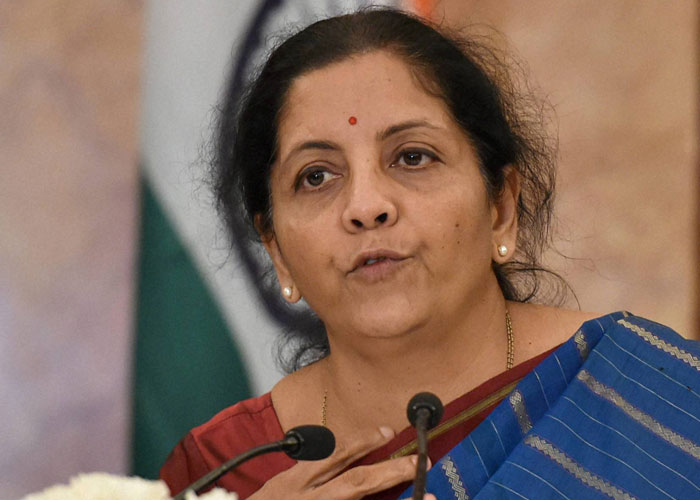 Amid reports of slowdown from various sectors, Finance Minister Nirmala Sitharam has said that India's economy is not in a recession. Sitharaman addressed a press conference in Delhi Friday, catch the highlights below.
Here are the Live Updates:
6:30 pm: No overreaching of tax authorities will happen; targets will be achieved: Nirmala Sitharaman 
6:26 pm: No overreaching of tax authorities will happen; targets will be achieved, says Sitharaman.
6: 25 pm: Govt will come out with a scrappage policy for old vehicles: FM
6:24 pm: Ban on govt departments lifted for purchase of vehicles to replace old ones: FM on measures to mitigate distress in auto sector.
6:13 pm:  BS-4 vehicles purchased upto 31 March 2020 will remain operational for the entire duration of registration: Nirmala Sitharaman on continuation of old vehicles.
BS IV vehicles purchased till March, 2020 shall be valid for period of registration. The higher registration fees deferred till June 2020. Depreciation increased to 30% - additional 15% depreciation on all vehicles acquired till March 31, 2020
6:05 pm: The government proposes to set up to provide credit enhancement for infrastructure and housing development projects: Nirmala Sitharaman
6:04 pm: The MSME Act will now go to the Cabinet with inputs of ministries so that there is one meaningful definition of MSMEs, says the finance minister. It will not only be linked to turnover.
5:57 pm: Banks have now decided to pass on any rate cut through MCLR reduction to benefit all borrowers. This will result in reduced EMIs for housing loans, vehicles and other retail loans, by directly linking repo rates to the interest rates: Nirmala Sitharaman
5:55 pm:  All pending GST refunds due to MSMEs till now shall be paid within 30 days from today: Nirmala Sitharaman
 In a major relief to the MSME sector facing liquidity shortage, the government announced that all their pending GST refunds will be paid within 30 days. Also, in future, all GST refunds of micro, small and medium enterprises (MSMEs) will be paid within 60 days from the date of application, Finance Minister Nirmala Sitharaman said while announcing a slew of measures to boost growth.
The minister also said the decision on recommendations of the U K Sinha Committee regarding ease of credit, marketing, technology and delayed payments to MSMEs will be taken within 30 days.
The government would also consider amendment to the MSME Act to move towards a single definition.
The MSME sector, which accounts for about 29 per cent of the gross domestic product (GDP), is one of the largest job creators in the country. Reports, PTI 
5:53 pm: All old tax notices will be decided by Oct 1 or will be uploaded again through the centralised system: Nirmala Sitharaman
5: 51 pm: Banks to make home, auto loans cheaper: FM
5:51 pm: Banks have decided to pass on rate cuts by RBI to borrowers; launched repo rate or external benchmark-linked loan products: Nirmala Sitharaman
5:50 pm: Govt to infuse upfront Rs 70,000 crore into public sector banks to enable release of Rs 5 lakh cr liquidity in the market: Nirmala Sitharaman
5:47 pm: In order to encourage investment in capital market, it is decided to withdraw enhance surcharge levied by the Finance No. 2 Act 2019: Nirmala Sitharaman
"The enhanced surcharge levied by Finance Act, 2019 on long and short term capital gains tax is being withdrawn," Sitharaman said in a special media briefing here.
The rollback comes after Indian capital markets witnessed massive outflow of foreign funds in the month of July. Since the Budget, the benchmark index, Sensex had fallen over 3,000 points after it touched a life-time high of 40,000.
5:45 pm: GST filing will be simplified: Nirmala Sitharaman
5:44 pm: We have decide to withdraw enhanced surcharge on capital gains: Nirmala Sitharaman
5:40 pm: All notices, summons by the I-T department from October 1 will be centralised, Sitharaman says.
5:39 pm: Respect for wealth creators was spirit of budget for FY20; consultations with different sectors to understand their needs thereafter: Nirmala Sitharaman
5:38 pm: There will be faceless scrutiny from 'Vijay Dashmi' this year, which will mean that there shall not be even, that one odd over-enthusiastic officer who might go and sit and talk about things, which may be construed as harassment: Nirmala Sitharaman.
Amidst concerns of rising harassment of corporates by tax officials and authorities, Finance Minister on Friday said that the government would take measures to curb such instances, including the introduction of "faceless" tax scrutiny from the upcoming "Vijaya Dashami". She also said that tax notices and summons without a computer generated unique ID number would not be valid. This measure would help in curbing the unauthorised tax summons. On violation of corporate social responsibility norms, the Minister said that such violations would not be treated as criminal offences. Prosecution will be replaced with a more humane approach. Wealth creators will be honoured and respected, reports IANS.
5:37 pm: "CSR will be treated as a civil matter, not a matter for prosecution," Nirmala Sitharam tells media
Under the Act, certain class of profitable companies are required to shell out at least two per cent of their three-year annual average net profit towards CSR activities.
5:34 pm: Reform on top of govt's agenda; reform process continues, we haven't lost momentum: Nirmala Sitharaman.
5: 22 pm: As a result of US-China trade war and currency devaluation, very volatile situation has developed in global trade
5:20 pm: India's growth rate higher than global trend, says Nirmala Stharaman
WATCH VIDEO