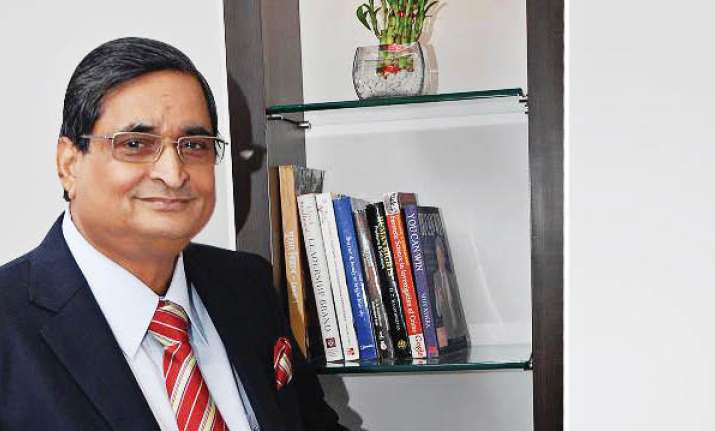 The Paradise Papers leak, dubbed as the second largest data leak in history after Panama Papers, has 714 Indian names who have offshore accounts in tax havens.
Among the who's who from India that figure on the list include Union minister Jayant Sinha, Bollywood superstar Amitabh Bachchan and Bharatiya Janata Party MP and Ravindra Kishore Sinha, who founded the private security service firm SIS or Security and Intelligence Services.
When approached for a response by the media, RK Sinha, who was elected to Rajya Sabha from Bihar in 2014 as a BJP member and is considered one of the richest in the House, chose to respond with his finger on his lips, literally.
An ANI video shows a reporter questioning Sinha on the revelations made by the ICIJ that link him to a group which has two offshore entities. Sinha, who is seen sitting in a vehicle, responds with cryptic silence.
He then goes on to pull out a sheet of paper and asks the journalist for a pen. He is then seen scribbling something on the paper before he hands it out to the reporter.
"7 din ke Bhagwat Yagna ke liye maun vrat hai (On a vow of silence for 7 days for the Bhagwat yagna)," it read.
#WATCH: BJP MP Ravindra Kishore Sinha's reaction on being asked about a news report of his security firm being linked to 2 offshore entities pic.twitter.com/AryNIJdq8h

— ANI (@ANI) November 6, 2017
According to the ICIJ revelations reported in The Indian Express, records of the Malta registry show SIS Asia Pacific Holdings Ltd (SAPHL), registered in Malta in 2008, as a subsidiary of SIS. Sinha is listed as a minority shareholder while wife Rita Kishore Sinha is a director of SAPHL.
Records show that SIS International Holdings Limited (SIHL), a company incorporated in British Virgin Islands, holds 3,999,999 shares in SAPHL while 1 share is with Ravindra Kishore Sinha.
As per the report, document dated October 13, 2008, available on the Malta registry, shows that SAPHL's 1499 ordinary shares of Euro 1 each were transferred from PCL International Holdings Ltd, Malta to SIS International Holdings Ltd, British Virgin Islands.
One ordinary share was transferred by David Marinelli in favour of Ravindra Kishore Sinha.
Notably, Sinha made no mention of his connection to SAPHL in his affidavit to the Election Commission during his nomination for the Rajya Sabha election in 2014. He did not declare this link to the Rajya Sabha after becoming a member as well, but did mention his association in documents of SIS (India) Limited filed before the Securities and Exchange Board of India (SEBI) on August 4, 2017, the report added.