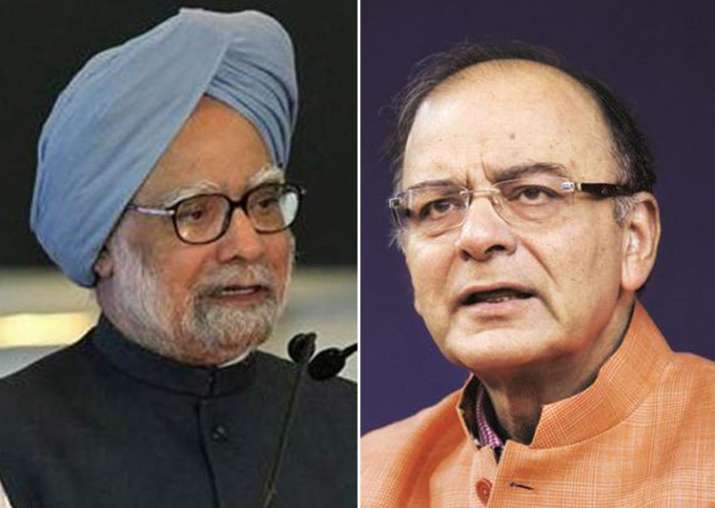 Adopting an aggressive posture over Modi government's economic policies, former Prime Minister Manmohan Singh today said that the "twin blow" of demonetisation and the "badly-designed" and "hastily-implemented" Goods and Services Tax (GST) was a "complete disaster" for India's economy.
He also asked Prime Minister Narendra Modi not to lower the democratic discourse by calling his critics anti-national or anti-development.
However, Finance Minister Arun Jaitley completely disagreed with the former prime minister and pointed out that the benefits of demonetisation may not be immediately visible to some people, though they would be apparent to the coming generation.
"The next generation will view post November, 2016 national economic development with a great sense of pride as it has provided them a fair and honest system to live in," Jaitley wrote in a Facebook post today.
Jaitley said one of the important objectives of demonetisation was "to make India a less cash economy and thereby reduce the flow of black money in the system. The reduction in currency in circulation from the base scenario reflects that this intended objective has been met," the Finance Minister said in a facebook post. The minister has said this before, but Prime Minister Narendra Modi in his November 8 speech had not mentioned this objective.
A day before the first anniversary of the government's November 8, 2016 decision to spike 1,000 and 500 rupee notes, Manmohan Singh in his address to small businessmen and traders in this city of election-bound Gujarat said the move was a "black day for our economy and indeed for our democracy".
He said the measure to recall large currency notes to curb tax evasion and black money had been suggested to earlier governments too but "we never took such a drastic measure because the... cause of demonetisation always exceeded the benefits very substantially".
"One must also remember that nowhere in the world has any democracy undertaken such a coercive move (of) withdrawing 86 per cent of legal tender in one single (stroke). Neither would anyone advise bringing out even more high currency notes of Rs 2,000 after elimination of 500 and 1,000 rupee notes."
The noted economist said he still remembered how "shocked" he felt when Modi announced the decision on the night of November 8 last year.
"I wonder who advised him to inflict such a reckless step on our nation and whether any considerable thought went into it. Black money and tax evasion are a menace that the country needs to tackle," he said, adding "the demonetisation was clearly not the solution".
He said the measure had failed its ostensible purpose of curbing wealth accumulated through tax evasion as it was known by now that none of the stated objectives of eliminating black money, terror financing and counterfeit currency have been met.
"The fact that more more than 99 per cent of the (spiked) currency came back into the banking system has punctured the government's claim. There are also widespread reports of the rich converting their black money into white while the poor have undergone immense suffering," he said "invoking the memory of more than a hundred people who lost their lives last year in the wake of the demonetisation".
"Demonetisation has proved to be a mere bluster to reap political dividends while the real offenders have escaped."
He reiterated how he described the measure in Parliament "as an organised loot and legalised plunder".
He said while the demonetisation had reduced economic growth to 5.7 per cent, it was still a "gross underestimate as the pain of the informal sector is not adequately captured in the calculation of the GDP".
"Every one per cent loss of our GDP growth rate annually costs our nation Rs 1.5 lakh crore. Think of the human impact on the lost jobs, the youth whose opportunities have vanished, the businesses who had to shut down."
He said what was "more tragic is that none of the lessons from this monumental blunder have been learned by the Modi government.
"Instead of providing relief to poor and marginalised farmers, traders and small and medium business... the government chose to inflict on them a badly designed and hastily implemented GST. This twin blow is a complete disaster for our economy. It has broken the back of small and medium enterprises of India."
He said the measures had deeply impacted the production sector of India, and China on the other hand benefited from demonetisation and GST.
"In the first half of fiscal year 2016-17, India's imports from China stood at Rs 1.69 lakh crore. And in the same period in fiscal 2017-18, the import from China increased to Rs 2.41 lakh crore. This unprecedented increase of imports by more than Rs 45,000 crore which is a 23 per cent increase in a year can be attributed largely to demonetisation and GST."
He said along with demonetisation, GST had sown a "deep rooted fear of tax terrorism among the business community".
He said good governance involved both the "head and the heart and it pains me to say that the Union Government has failed to do its duty on both fronts".
Manmohan Singh also criticised the government for the bullet train project to run between Mumbai and Ahmedabad, calling it "an exercise in vanity" that won't benefit the nation as a whole.
He said the priorities of the government were "misplaced" and it should have instead improved the safety infrastructure of India's railway network.
Manmohan Singh said people should be allowed to ask the government about its public policy. 
"By questioning the bullet train, does anyone become anti-development? By questioning demonetisation and GST does anyone become anti-national?
"This attitude of suspecting everyone to be a thief or anti-national, low level rhetoric is damaging to democratic discourse."
Jaitley in his post said the published figure of "currency in circulation" for half year ending September, 2017 stood at Rs 15.89 lakh crore, showing year-on-year variation of (-) Rs 1.39 lakh crore.
"...whereas year-on-year variation for the same period during last year was (+) Rs 2.50 lakh crore. This means that reduction in currency in circulation is of the order of Rs 3.89 lakh crore," said the minister.
The RBI in its Annual Accounts reported that Specified Bank Notes (SBNs) of estimated value of Rs 15.28 lakh crore was deposited back as on June 30, 2017.
The outstanding SBNs as on November 8, 2016 were of Rs 15.44 lakh crore value. The total currency in circulation of all denominations as on November 8, 2016 was Rs 17.77 lakh crore.
Jaitley added that when demonetisation was implemented, one of the intended objectives was to put identity on the cash holdings in the economy.
"With the return of Rs 15.28 lakh crore in the formal banking system, almost entire cash holding of the economy now has an address. It is no more anonymous," the minister asserted.
"From this inflow, the amount involving suspicious transactions based on various estimates ranges from Rs 1.6 lakh crore to Rs 1.7 lakh crore. Now it is with the tax administration and other enforcement agencies to use big data analytics and crack down on suspicious transactions," he added.
Jaitley informed that the number of suspicious transaction reports filed by banks during 2016-17 has gone up to 3,61,214 from 61,361 in 2015-16. He mentioned that the increase during the same period for financial institutions was from 40,333 to 94,836 and for intermediaries registered with SEBI the increase was from 4,579 to 16,953.
The minister said the exercise to remove the anonymity with currency has further yielded results in the form of 56 lakh new individual tax payers filing their returns till August 5, 2017.
"Self-Assessment Tax (voluntary payment by tax payers at the time of filing return) paid by non-corporate tax payers increasing by 34.25 per cent during April 1 to August 5 in 2017 when compared to the same period in 2016," he wrote in the social media post.
Jaitley said with data collected during demonetisation period leading to identification of 2.97 lakh suspect shell companies, further actions were taken under the law to stop operation of bank accounts of these struck-off companies. 
"Simultaneously, Income Tax Department has taken action against more than 1,150 shell companies which were used as conduits by over 22,000 beneficiaries to launder more than Rs 13,300 crore," he said.
Pointing out towards other benefits of demonetisation, Jaitley wrote that the attempt towards curbing of black money led to an acceleration in the financialisation of savings, and the country has taken a big leap in digital payment during 2016-17 with a shift to less cash economy.
"In an overall analysis, it would not be wrong to say that country has moved on to a much cleaner, transparent and honest financial system," Jaitley wrote in conclusion.