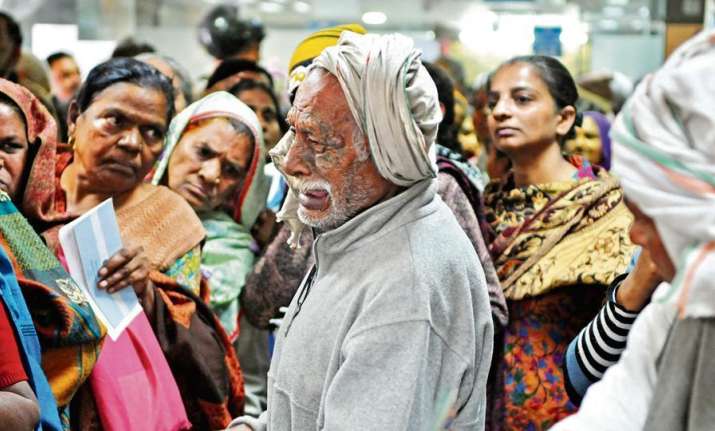 An old man captured on camera with tears trickling down his cheeks as he stood outside a State Bank of India branch in Gurgaon to withdraw money as a crowd watched had become the face of the pain many felt in the aftermath of the drastic decision announced by Prime Minister Narendra Modi on November 8 last year.
His image had gone viral and was used extensively to deride the government by many politicians including Congress vice president Rahul Gandhi.
One year on, the man says he supports the government's move and that it benefitted the economy.
"I would say it benefited the country. These 'ugravadis' (extremists) had started making a lot of noise," he told news agency ANI.
WATCH: Nand Lal (ex-Serviceman clicked in iconic #demonetization pic) praises the Government (NOTE: Strong Language) pic.twitter.com/ik4vaHYNvF

— ANI (@ANI) November 8, 2017
The man, identified as Nand Lal (80), had earlier told Economic Times in an interview that whatever this government did would be for the betterment of the country and that he would support it come what may.
Earlier today, Rahul Gandhi had used the same image with a couplet in Urdu to target the government on one year of demonetisation: "Ek aansu bhi hukumat ke liye khatra hai. Tumne dekha nahin aankhon ka samundar hona (Even a single tear is a danger for the government. You have not seen eyes turning into an ocean)."
Union minister Ravi Shankar Prasad responded to the Congress VP's charge saying the man whose image Rahul had tweeted was a supporter of the Narendra Modi government.
"Rahul Gandhi has tweeted against demonetisation by using Nand Lal, but Nand Lal has stated on record that he supports Modi ji," Prasad said on the iconic photo of the former armyman.
As per media reports, Nand Lal, who was pictured crying, was waiting outside the bank, when someone pushed him and a woman stepped on his foot.
"Apart from this, I didn't face much problem," he was quoted as saying.