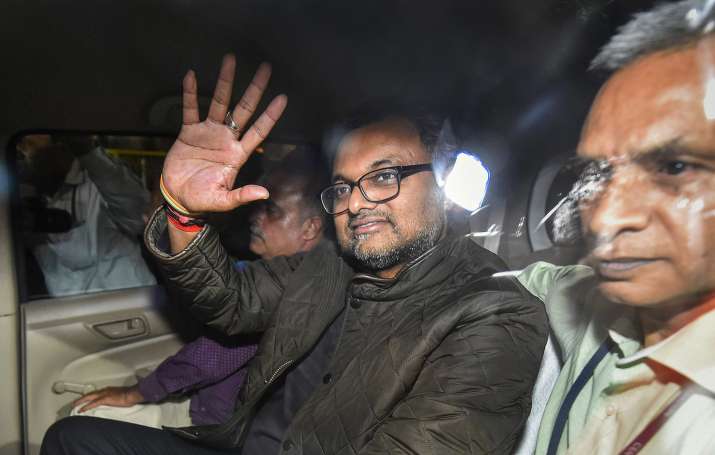 The Central Bureau of Investigation (CBI) on Wednesday arrested Karti Chidambaram, son of former Finance Minister P Chidambaram, based on INX Media's owners Indrani and Peter Mukerjea's statement, sources said. 
The arrest made in connection with the ongoing probe into the INX media case reportedly came after the Mukerjeas confessed to the investigating agency that they had paid a kickback of Rs 3.5 crore to Karti Chidamabaram for help in circumventing Foreign Investment Promotion Board (FIPB) clearance for limited foreign investment. The couple has been in jail on charges of murdering her daughter Sheena Bora since 2015.
The statement given by Indrani Mukerjea to the agency also links senior Congress leader P Chidambaram to the money laundering case. In her statement recorded by the CBI under Section 164 of the CrPC, Indrani alleged that P Chidambaram had asked her and her husband Peter to help his son's business. Chidambaram, while he was Union Finance Minister, asked the Mukerjeas to "help the business of his son Karti, and to make foreign remittances for this purpose", she claimed.
Also read | Karti Chidambaram's arrest a diversionary tactic, vendetta politics: Congress
According to the CBI and ED, Indrani and Peter admitted to "have met Karti Chidambaram in Hotel Hyatt in Delhi, where a demand for the illegal gratification of $1 million was made. Karti suggested the names of Chess Management and Advantage Strategic as alternatives to make payments."
Though the INX Media had not been given clearance by the FIPB to make 26 per cent downstream investment in INX News, it went ahead in 2007 itself. The matter was flagged by the I-T department after which the FIPB sought a clarification from INX Media.
The INX Media, according to the agencies, approached Karti Chidambaram to sort out the issue. Karti allegedly helped INX Media seek fresh approval for an investment which had already been made. 
The company is accused of bringing in foreign investments worth over Rs 300 crore, however, it had the approval of only Rs 4.6 crore.
Karti Chidambaram, who was arrested from Chennai airport on his way back from London, has been remanded to one-day custody of the CBI by a Delhi court. 
The arrest of Karti came nine months after the CBI registered an FIR against him on charges of criminal conspiracy, cheating, accepting gratification by corrupt or illegal means, influencing public servants and criminal misconduct.
CBI said that he was arrested as he was non-cooperative towards the investigation and was a flight risk. Both charges have been disputed by Karti's lawyer Abhishek Manu Singhvi.
Also read | No interference from govt; law must take its course: Ravi Shankar Prasad on Karti Chidambaram arrest
Watch video: War of words between Congress, BJP after Karti Chidambaram's arrest