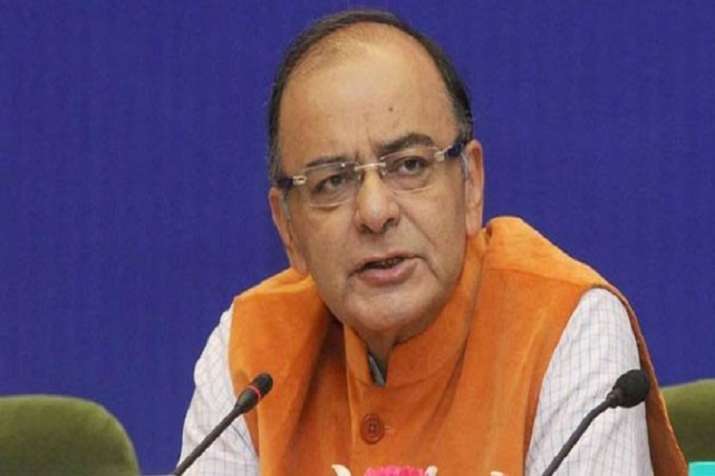 In an attempt to ally market fears over falling value of Indian Rupee against US Dollar, Union Minister Arun Jaitley on Wednesday said that India's foreign exchange reserves are comfortable by global standards and sufficient to mitigate any undue volatility in the foreign exchange market.
Jaitley said that the change in the value of Rupee is nothing but the result of recent developments relating to Turkey, which have generated global risk aversion towards emerging market currencies and the strengthening of the dollar.
"However India's Macro fundamentals remain resilient and strong," he said in a series of tweets, adding that the concerned authorities were monitoring the developments closely to address any situation that may arise in the context of the unsettled international environment.
On Tuesday, Economic Affairs Secretary Subhash Chandra Garg attributed the fall in rupee value against the US dollar to "external factors" and said that there is nothing to worry about as long as the depreciation is in line with other currencies. 
The rupee crashed to record low of 70.09 during the day on global concerns over Turkey's economic woes which have impacted various emerging markets amid the US dollar gaining strength against other currencies.
"Rupee is depreciating due to external factors...nothing at this stage to worry," Garg said adding external factors may ease going forward.
In a tweet, Garg clarified: "A statement has been mischievously attributed to me in connection with recent fall of rupee. I disagreed with a reporter's hypothetical statement that rupee may fall to Rs 80. I attributed the recent fall to essentially external factors and need to wait for stability to return." 
The Indian currency, he said, is still better as compared to certain other currencies.
In the current financial year, which began on April 1, the rupee has depreciated around 6.7 per cent against the US dollar.
Garg also said that while the Reserve Bank of India had sufficient foreign exchange reserves, its intervention in the currency market may not be of much help as of now, as the weakness in the rupee was a result of global factors.
RBI's foreign exchange reserves were at USD 402.70 billion in the week ended August 3, down USD 1.49 billion over the preceding week, latest data released by the central bank showed.
RBI's stated position is that it does not seek to target a particular level for the rupee's exchange rate against the dollar, and uses its reserves to ease volatility in the currency market. 
Meanwhile, SBI Chairman Rajnish Kumar said all currencies have weakened against the dollar, but the Indian currency has not weakened very much in comparison to other currencies.
"I feel that it (rupee) should stabilise between 69 and 70 because if you look at the numbers for investment which is coming into the country -- investment in bonds, investment in equities -- this level has become attractive for foreign investment," Kumar said. 
B Prasanna of ICICI Bank said the rupee is the victim of a contagion effect impacting all Emerging Markets (EMs) triggered by the Turkish crisis. 
"The gradual pace of depreciation witnessed till the 69 figure levels are a result of the Yuan depreciation and the current account deficit worsening sharply from 0.6 per cent of GDP in FY'17 to an expected deficit close to 2.5 per cent of GDP this year, stemming from surging oil prices and worsening of the already negative basic Balance of Payment (BoP)," he said. 
He opined that on a medium term basis, the rupee will need to depreciate further to keep up with the inflation differentials with other trading partners. 
(With inputs from PTI)