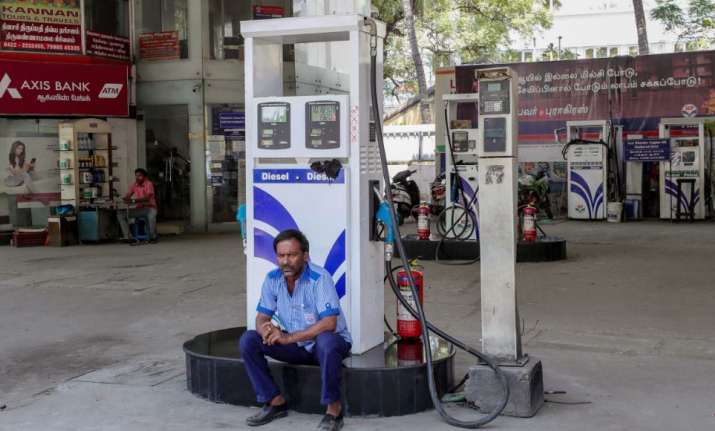 For the common man, the respite is not in the sight as depreciating rupee and expensive crude oil further pushed the prices of petrol and diesel in the country to a fresh high on Tuesday. Petrol further gained 14 paise to reach Rs 80.87/litre in Delhi and Rs 88.26/litre in Mumbai. While, diesel is selling at Rs 72.97/litre in Delhi and Mumbai petrol pumps are selling diesel at Rs 77.47/litre (increase by Rs 0.15/litre). In Maharashtra's Parbhani, petrol touched Rs 90 per litre, the highest in the country.
Fuel prices began an almost unbroken northward march since August 1. They fell only once on August 13 in the last 41 days. Prices surged on 29 days and remained unchanged on 11 days, and have been breaching record levels for more than a week now. 
Also read | Bharat Bandh: Sporadic incidents of violence against fuel price hike; Rahul targets PM Modi, BJP hits back
Sector experts say a weak rupee and high excise duty are major factors for the rise in fuel prices. The rupee on Monday touched an all-time low of Rs 72.67 against the US dollar. 
Also, high global crude oil cost has become a major concern for the country which is a net importer of oil. The UK Brent crude oil price hovers around $77 per barrel.
Since the start of the calendar year, the petrol price in Delhi has gone up by 15.4 per cent from Rs 69.97 on January 1, 2018. The hike in diesel price has been even more steep. It has gone up by 22 per cent since January 1, 2018 when it was Rs 59.70.
A multi-party Opposition, led by Congress President Rahul Gandhi, on Monday staged a 1.8-km foot march between Rajghat and Zakir Husain College here in support of a 'Bharat Bandh' called by his party against the rising fuel prices. 
The rising diesel price is expected to flare up inflation as the fuel is primarily used to transport most of the goods including agricultural products.
As per the country's pricing mechanism, the domestic fuel prices are dependent upon the international fuel prices on a 15-day average and the value of the rupee.
The ruling Bharatiya Janata Party has termed the hike in petroleum products as a 'momentary difficulty' owing to an international crisis.