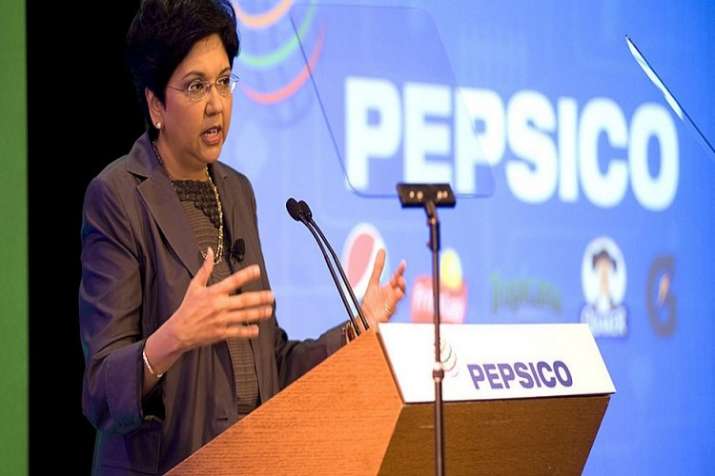 After being at the helm of the New-York based PepsiCo for more than 12 years, Indira Nooyi has finally called it a day. Indian-origin Nooyi, who served as the CEO of PepsiCo is going to step down from her position, the company said in a statement. She will be replaced by Pepsico President Ramon Laguarta.
CHILDHOOD AND EARLY LIFE
Born Indira Krishnamurthy on 28 October 1955, Ms. Nooyi was raised in conservative middle class family in Chennai. Her father was a bank official. She was educated at Holy Angels Anglo Indian Higher Secondary School. She studied mathematics from Madras Christtian College from where she graduated in 1974. A brilliant student, she earned a seat in one of India's premier institutions, Indian Institute of Management Calcutta, from where she completed a Post Graduate Diploma in Management (MBA), in 1976.
CAREER
Nooyi's first job was with Tootal, a British textile company which had extensive holdings in India. Eventually she moved on to work with Johnson & Johnson as a product manager. Her experience at Johnson & Johnson made her realise that she was still unprepared for the business world, and thus she decided to pursue further education. She moved to the United States to join Yale School of Management in 1978 and pursued a master's degree in Public and Private Management. She thoroughly enjoyed her learning experience at Yale and graduated in 1980.
After getting her degree, she joined the Boston Consulting Group as a director of international corporate strategy projects. In this position, she worked on a variety of strategy projects for the next six years.
In 1986, she moved to Motorola as a senior executive in the automotive division development team. She quickly rose through the ranks and was promoted to vice president and director of corporate strategy and planning in 1988.
She changed her job yet again in 1990, this time accepting the post of senior vice president and director of corporate strategy and strategic marketing at Asea Brown Boveri (ABB). This job required Nooyi to integrate a group of around 15 diverse businesses into a cohesive operation.
She proved to be a great success at this job and by the mid-1990s, she was aggressively being courted by corporate headhunters and offered lucrative positions in some of the world's largest companies. In 1994, Jack Welch, the head of General Electric, and Wayne Calloway, PepsiCo CEO, both offered her jobs in their respective companies.
Indra Nooyi joined PepsiCo in 1994 as senior vice president of corporate strategy and development. Over the next couple of years, she worked closely with the new CEO, Roger Enrico, and worked on shaping the company's future expansion and growth strategies.
PepsiCo at that time owned KFC, Pizza Hut, and Taco Bell restaurant chains. Nooyi played a pivotal part in getting these restaurants divested in 1997. The divesture resulted in the creation of Tricon Global Restaurants, Inc., now renamed as Yum! Brands, Inc., which is today one of the world's largest fast food restaurant companies. Nooyi was also instrumental in PepsiCo's acquisition of Tropicana and the merger with Quaker Oats Company. Both of these ventures proved to be highly profitable to the company.
In recognition of her impressive work with the company, Nooyi was promoted to chief financial officer in 2000 and the president in 2001. In 2006, PepsiCo CEO Steve Reinemund retired and Nooyi became the fifth CEO in PepsiCo's 44-year history.
Indra Nooyi also serves as a member of the Foundation Board of the World Economic Forum, International Rescue Committee, Catalyst, and the Lincoln Center for the Performing Arts.
AWARDS AND ACHIEVEMENTS
Nooyi has been consistently ranked on 'Forbes' magazine's list of The World's 100 Most Powerful Women. 'Fortune' magazine named Indra Nooyi No.1 on its annual ranking of Most Powerful Women in business for five consecutive years from 2006 to 2010.
She was honoured with the Padma Bhushan, the third-highest civilian award by the President of India in 2007.
She has been named 2009 CEO of the Year by Global Supply Chain Leaders Group.