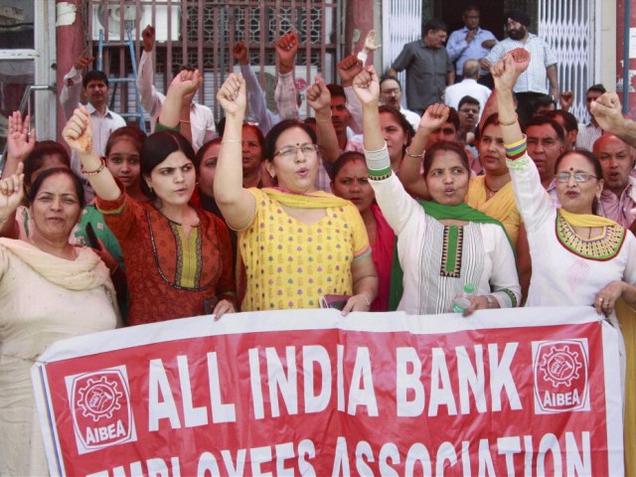 All India Bank Employees Association, FRDI Bill 2017, bail-in clause, Financial Resolution Corporation, Reserve Bank of India, liquidation of banks, Business news,
All India Bank Employees Association (AIBEA) has threatened to go on trike against the controversial Financial Resolution and Deposit Insurance (FRDI) Bill. 
In a statement issued late on Monday, the AIBEA said: "The Bill has created widespread fear, apprehension and panic amongst the depositors that the government is contemplating to liquidate the banks and the deposits of the Banks will not be returned because of the bail-in clause of the Bill."
According to AIBEA, the Bill provides for setting up a new authority Financial Resolution Corporation (FRC) which will deal with liquidation and resolution of Banks Insurance and other financial institutions.
"This FRC will supersede the powers of RBI (Reserve Bank of India) and other agencies dealing with the problem at present. Deposit Insurance Corporation guarantees deposits upto Rs. 1 lakh per customer. This will be closed down and the FRC will decide the amount now," AIBEA said.
In addition, the FRC has power to liquidate any bank and permit to use the depositors' money to bail-in a bank. This provision is creating doubt and panic in the minds of every one, the statement said.
According to AIBEA, at a time when people are already worried about their money in the banks due the huge bad loans and consequent write off, loss of revenue, losses being incurred by banks, the government instead of assuring the people about safety has chosen to bring this FRDI Bill which deals with possible liquidation of banks.
The bank union spoke of stringent measures to recover the huge bad loans from big corporates and other defaulters.
The AIBEA said the question of bail-in does not arise in Indian situation as banks under liquidation are general merged with stronger banks.
Finance Minister Arun Jaitley, on the other hand, attempted to quell the public fear on Monday as he clarified the FRDI Bill does not propose to wipe out depositers' money in the event of a bank failure.
Removing any misgivings and rebutting false rumours being spread about the provisions of the FRDI Bill 2017, the Finance Minister said that about Rs 2.11 lakh crore is being pumped in to strengthen the public sector banks and that the question of bank failures does not arise, it added.
"If such a situation arises, deposits made by the customers, the government will fully protect them. The government is very clear about it," Jaitley was cited as saying in the statement.
The government has already signaled a rethink in the face of mounting criticism over the contentious clause. Jaitley said last week that the Bill was before a parliamentary committee for consideration and the government was committed to protect the interests of depositors.
The "objective of the government is to fully protect the interest of the financial institutions and the depositors," Jailtey had tweeted earlier.
With inputs from agencies