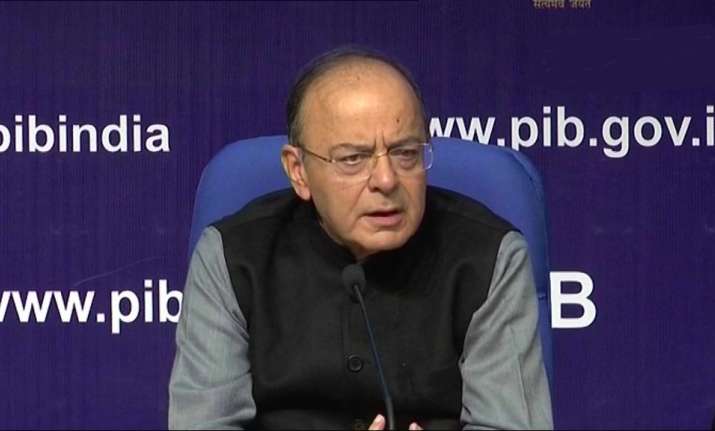 Finance Minister Arun Jaitley on Wednesday said that the Department of Financial Services has been undertaking a detailed exercise as to the amount of capital that needs to be infused into public sector banks
Announcing details of Rs 2.1-trillion bank recapitalisation programme at a press conference in New Delhi, Jaitley said that it will be spread over 2017-18 and 2018-19.
"The main objective of this flows from the Government's responsibility to keep public sector banks in good health," FM Jaitley told media. 
With days left in the presentation of the current Modi Government's last full Union Budget, the finance minister said that the Centre hopes to 'build an institutional mechanism to ensure that the problems that we inherited do not recur'. 
Also present at the presser, Rajeev Kumar, Secretary, Department of Financial Services, said repositioning public sector banks will lead to growth and serve 'people responsibly and responsively'.
"State Bank of India to get Rs 88 billion, Rs 35.71 billion for Oriental Bank of Commerce, Rs 30.45 billion for Dena Bank, Rs 51.58 billion for Central Bank of India, Rs 46.94 billion for Indian Overseas Bank, Rs 92.32 billion for Bank of India, Rs 65.07 billion for UCO Bank," Kumar announced.
Punjab & Sind Bank to get Rs 7.85 billion, IDBI Bank will get Rs 106.1 billion, Canara Bank stands to get Rs 48.65 billion, Union Bank will get Rs 45.24 billion, Syndicate Bank will get Rs 28.39 billion, Bank of Maharashtra will get Rs 31.75 billion.
650-million first generation bank accounts will not have any minimum balance penalty, said Kumar.