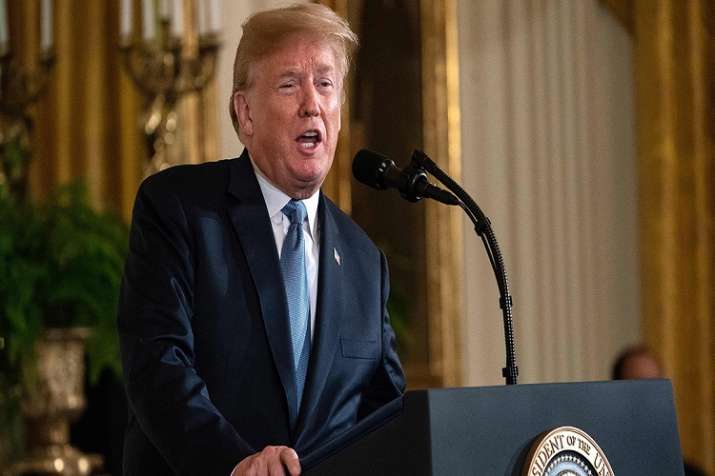 US President Donald Trump on Monday warned motorcycle manufacturer Harley-Davidson that he knows its customers and that they will not look kindly on an American company moving some production overseas. He said that it was a shame that the company made the decision even though he got India to reduce the import duties on the iconic motorcycles.
Trump said the Wisconsin-based motorcycle manufacturer risks losing American customers if it shifts production overseas amidst the tit-for-tat tariff war with the European Union (EU).
"I have feeling that maybe Harley, I think they're going to take a big hit. I just think it's a great American product. Our people have more pride then they used to have. I really believe that Harley's going to take a (hit)-- the people that are buying Harley-Davidson, they don't want it built in another country," Trump told Fox News.
Harley-Davidson has annouced that it is moving some of its production overseas to avoid tariffs on bikes sold in the EU. Trump's decision to levy tariffs on steel and aluminum from the 28-member bloc and other countries triggered the move.
Trump cautioned against Harley-Davidson moving overseas, saying, "I think that Harley is an American bike. It's an American motorcycle and they should build them in this country."
He accused the American motorcycle maker of using tariffs as an excuse to produce more bikes overseas.
"I think I taught them more about tariffs than I could ever learn. I was saying, let me ask you a question. How much do you pay in India? One hundred per cent. Oh, really? Do you do much business? No. Why? Because the tariff's too high," Trump said.
"I'm the one telling them. I said, that's a shame. I got them to reduce the tariffs in India, because I used that as an example. All of the sudden, Harley leaves. Everyone else is coming in," Trump said.
Trump has repeatedly raised the issue of high tariffs by India on high-end Harley-Davidson motorcycles, which in part is responsible for the current trade tension between the two countries.
In February, Trump had said that the Indian government's decision to reduce the tariff on Harley-Davidson motorbikes from 75 per cent to 50 per cent was not enough and asked that it should be reciprocal, as the US imposes 'zero tax' on the import of motorcycles.
Trump claimed that everybody who ever bought a Harley-Davidson voted for him in the 2016 presidential election.
"I devoted a lot of time to Harley-Davidson. I treated them good. I guarantee you, everybody that ever bought a Harley-Davidson voted for Trump. I don't know if you know that. They call them bikers for Trump. There's hundreds," he said.
Harley Davidson is the company which is going out of the country, while "everyone else is coming in", he said, warning that the decision of the company would hit it. 
Harley-Davidson in its US Securities and Exchange Commission (SEC) filing last week said that new retaliatory tariffs by the EU (an increase from six per cent to 31 per cent) will result in an incremental cost of approximately USD 2,200 on an average motorcycle exported from the US to the EU, a key market for the company.
"To address the substantial cost of this tariff burden long-term, Harley-Davidson will be implementing a plan to shift production of motorcycles for EU destinations from the US to its international facilities to avoid the tariff burden," said the company without indicating to which country it plans to move its production facilities to.
Harley-Davidson said that shifting targeted production from the US to international facilities could take at least nine to 18 months to be fully completed.
Outside the US, Harley-Davidson has manufacturing facilities in India, Brazil and Australia.