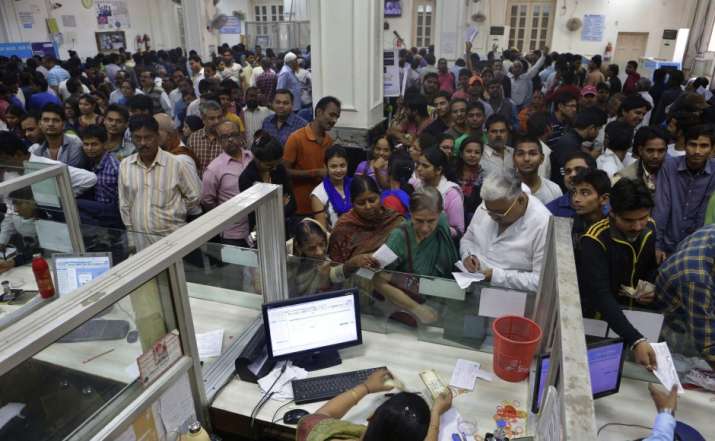 Lakhs of public sector bank employees, who put in extra hours after the government's shock decision to demonetise Rs 500 and Rs 1,000 notes, and are yet to be paid their overtime dues, have now threatened to go on strike to press for their demands.
Employee unions are also believed to be considering legal action against their employers if their dues are not cleared.
According to a report in Hindustan Times, around 4 lakh employees at these state-run banks are yet to be paid their dues for the extended hours that they put in at work to deal with the heavy rush at banks as people flocked to exchange banned currency for legal tender.
There are cases where employees put in around 14 hours in office to deal with the rush but were yet to be paid their dues almost a year after the demoneitsation decision. Employees also had their leaves cancelled as banks struggled to deal with the unprecedented chaos that ensued Prime Minister Narendra Modi's November 8 announcement.
As per employer norms, one extra hour put in by an employee entitles him to payment in the range of Rs 100-Rs 300, depending upon the pay package. Back of the envelope calculations suggest that the overtime dues could run into several crores, though there is no number that employee unions have put as of now.
"We have brought this issue to the notice of the government... In case dues are not paid, we will take stringent action... we could even go on strike like we did earlier... we will also look at taking other legal action," CH Venkatachalam, general secretary, All India Banks' Employees Association (AIBEA) told Hindustan Times.
According to the unions, no bank has cleared the dues in full and the issue has been escalated to Finance Minister Arun Jaitley, who is likely to take up the issue at a meeting with the Labour ministry. 
The government's decision to demonetise Rs 500 and Rs 1,000 notes wiped off 86 per cent of the currency in circulation in a single stroke. Banks saw unprecedented rush as people struggled to exchange their old notes with new. The rules for exchange of notes kept changing leading to further chaos.