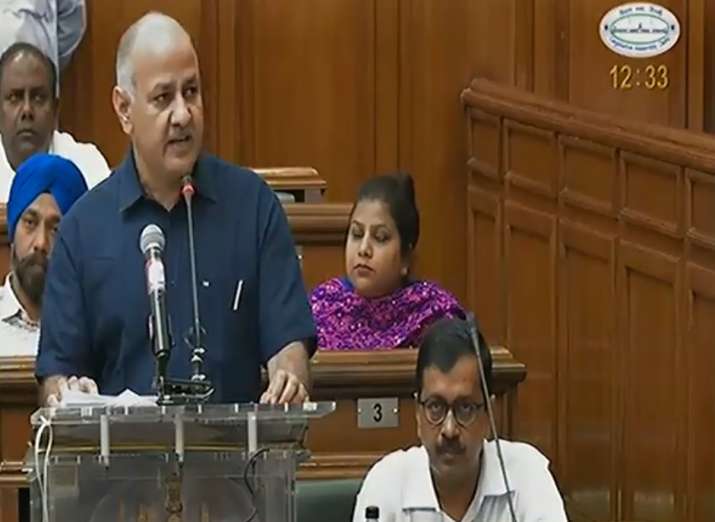 Delhi Deputy Chief Minister Manish Sisodia, who also holds the Finance portfolio, is presenting the 2018-19 budget today. Delhi Budget 2018-19 follows the Outcome Budget, presented by Sisodia yesterday, wherein 23.7 per cent of indicators were off track for schemes and programmes of 14 major departments, including Health, Social Welfare and Education, for which funds were allocated in the Delhi Budget 2017-18. 
Highlights fo Delhi Budget 2018-19
#Mission Buniyaad to enhance reading and Maths skills of students between classes 1 to 8 in months of April, May and June.
#Around 1.2 lakh CCTV cameras in Government schools.
#26% of Budget being allocated for education total amount Rs. 13,997 crore.
#Government introducing a new curriculum in the state-run schools.
#Govt preparing an electric vehicle policy, special funds for electric rickshaw operators: Sisodia
#Sisodia proposes 1,000 electric buses, sops for eateries to switch from tandoors to green appliances
#Govt to tie up with Washington University to record pollution data across the year, says Sisodia
#Sisodia proposes an amount of Rs 53 thousand crores for Delhi Budget 2018-19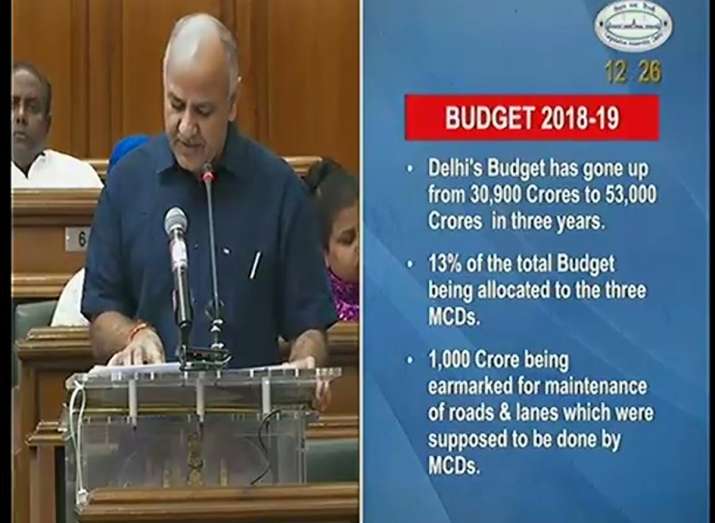 #Develop the first comprehensive city-wide inventory of greenhouse gas emissions in Delhi
#1,000 Crore being earmarked for maintenance of roads & lanes which were supposed to be done by MCDs
#13% of total budget being allocated to the three MCDs
#Delhi Budget has gone up from 30,900 crores to 53,000 crores in three years
Difference in per capita income between Delhi and India.#AamAadmiBudget pic.twitter.com/ALyu0JF2h6

— Aam Aadmi Party Delhi (@AAPDelhi) March 22, 2018
#Per capita income increased by 9.41℅ in 2017-18 
#Budget has increased 1.5 times in last three years - Dy CM
#Our Government worked extensively on Education, Health, Electricity, Water, Minimum wages, Skill etc.
#Delhi is paying the highest minimum wages to workers in the country
#We are spending one-fourth of our budget on education for past three years, says Sisodiya
#During the presentation of the Outcome budget, the AAP government also sought to fix accountability of all the stakeholders, including the Lieutenant Governor (LG), through new monitoring units, in planning and executing the city administration's programmes and schemes. 
#Sisodia said that idea behind the Outcome Budget was to bring a high degree of accountability and transparency in public spending.
#The Outcome Budget, which covers 34 departments of the government, was termed as the "first of its kind" in the country.
(With inputs from agencies)
Watch Delhi Budget 2018-19 presentation live here: