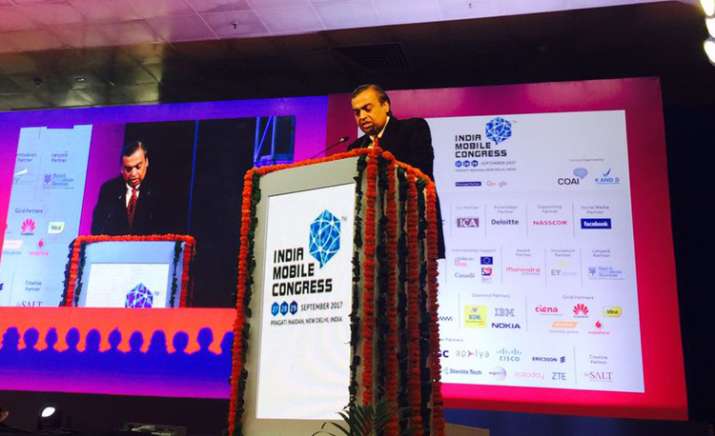 Reliance Industries Ltd Chairman Mukesh Ambani on Wednesday said data is the new oil and India does not need to import it. Ambani was speaking at the inauguration edition of the India Mobile Congress here.
"Data is the new oil. India does not need to import it. We have it in super abundance. It will be a new source of value and will create opportunities and prosperity for India and millions of Indians," Ambani said.
"As a nation, we missed out on the first three global industrial revolutions -- namely mechanisation, mass production and automation. The Fourth Industrial Revolution, fuelled by connectivity, data and Artificial Intelligence, has now begun," he said. 
"India now has the opportunity to lead the Fourth Industrial Revolution, which is set to usher in more dramatic transformations globally than the three previous revolutions. Mobile Internet and cloud computing are the foundational technologies in the Fourth Industrial Revolution."
The industrialist highlighted that India has leapfrogged from a lowly 155th in mobile broadband penetration to being the world's largest mobile data-consuming nation in just one year. 
"Data is the oxygen of a digital economy. We cannot deprive Indians of this vital life-sustaining resource. We have to provide ubiquitous access to high-speed data at affordable prices," he said. 
Ambani said the Indian mobile market is now overflowing with data. 
"All of us have worked to create a robust digital circulatory system to carry data to each one of the 1.3 billion Indians, including those living in the remotest village," he said.
Ambani said the 4G coverage in India will become larger than the 2G coverage within the next 12 months and there was an urgent need to apply the revolutionary powers of digital technologies to country's  pressing needs and challenges.
He charted out three must-do tasks for the industry and government alike.
First, he said: "We must explore and implement innovative ideas to generate employment, self-employment and income-generation opportunities for millions of Indian youth."
Secondly, he said digital technologies can be a boon for achieving national priorities of energy security, water security, and resource security and, thirdly, India's human capital is our greatest asset.
"Therefore, digitalisation of education, training and human resource development in a comprehensive manner must be regarded as a precondition for the success of Digital India. To accomplish all these tasks, the telecom and IT industry will have to partner with every sector of the economy and government, every business and every institution, from the biggest to the smallest."
"I believe that in the next 10 years, India will grow from a $2.5 trillion economy to a $7 trillion economy and rank among the top three economies in the world."
(With IANS inputs)