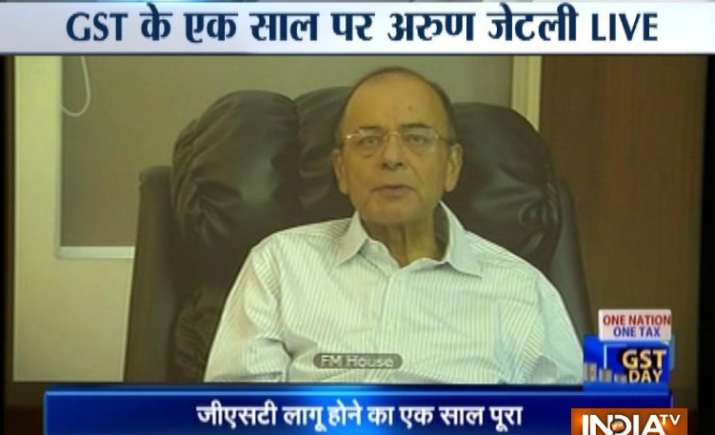 GST has been historic and  game changer reform for the Indian economy, Arun Jaitley said while addressing a function commemorating the first year of the implementation of the Goods and Services Tax.
The Goods and Services Tax (GST) was launched on July 1, 2017 in a ceremony held in the Central Hall of Parliament on the midnight of June 30, 2017. The Modi government is celebrating the day as 'GST Day'. 
Jaitley thanked all the concerned bodies, including CBI, CBDT and GST Council, for a successful implementation of the tax reform. He said that while several nations faced severe consequences of implementing a 'one nation, one tax'' rule, an unprecedented cooperation between states and Centre and financial bodies made it a success in India. The Union minister also thanked all the previous finance ministers and credited them for their contributions in the formulations of the tax reform.
He said that there has been an 18 per cent increase in the tax return filing after the GST implementation a year ago.
Earlier in the day, Prime Minister Narendra Modi congratulated the people of India on first anniversary of GST implementation. A vibrant example of cooperative federalism and a 'Team India' spirit, GST has brought a positive change in the Indian economy, PM Modi said in a series of tweets today. He claimed that the tax reform has brought growth, simplicity and transparency.
It is boosting formalisation, enhancing productivity, furthering 'Ease of Doing Business' and benefitting small and medium enterprises, he said in another tweet. 
Also read | GST has raised tax burden on common man, says P Chidambaram
Watch video: