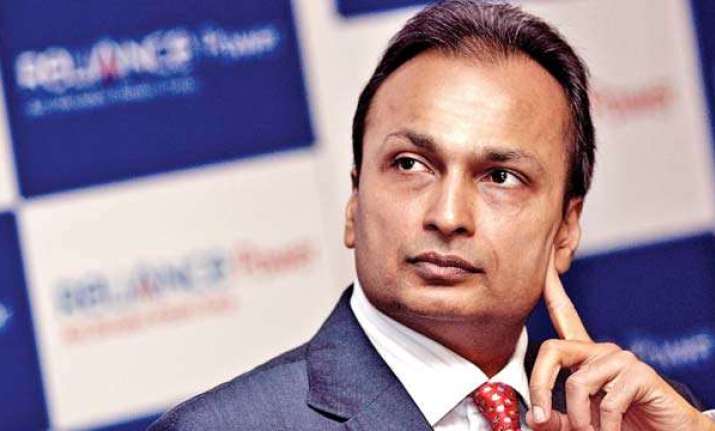 Shares of Anil Ambani-controlled Reliance ADAG tumbled by over 15 per cent on bourses on Wednesday amid heavy selling in late afternoon trade.
Shares of most ADAG group companies fell sharply, with shares of Reliance Communications touching a new low of Rs 9.75 in its first ever fall to single digits.
The past three trading sessions have seen RCom's stock fall by over 30 per cent since the company posted a consolidated loss of Rs 3,919 crore in first half (April - September) of the year 2017-18, against a net profit of Rs 152 crore in the corresponding period last year.
The stock has plunged 89 per cent from Rs 88.20 in this calendar year, and its market capitalisation has dropped by Rs 5,729 crore to Rs 2,746 crore.
Besides RCom, Reliance Home Finance, Reliance Nippon Life Asset Management, Reliance Capital, Reliance Infrastructure, Reliance Naval and Engineering and Reliance Power were all down in the range of 8 per cent to 15 per cent on the BSE.
While Reliance Infrastructure stocks slipped 15 per cent at the day's low and finally closed at Rs 418.95, Reliance Capital shed 15 per cent during the day before closing at Rs 422.
Reliance Naval and Engineering dropped 11.22 per cent at the day's low and ended at Rs 44, while Reliance Nippon Life Asset Management shed 9.23 per cent intraday before recovering a little to end at Rs 256.5.
RCom, the most leveraged among Indian listed companies, is reeling under a debt of Rs 45,000 crore.
Meanwhile, Bloomberg reported that RCom had also failed on US dollar bonds – the first default by an Indian company in 15 months.
"Reliance Communications Ltd., the Indian mobile phone operator controlled by billionaire Anil Ambani, failed to pay a coupon on its 2020 dollar notes before the expiry of a grace period on Monday," Bloomberg reported citing an unidentified person familiar with the matter.
Meanwhile, Reliance Nippon Life Asset Management, which had raised Rs 1,540 crore through its initial public offer and got listed on the bourses on November 6, dipped 9 per cent to Rs 248 in intra-day trade, falling below its issue price of Rs 252 per share.