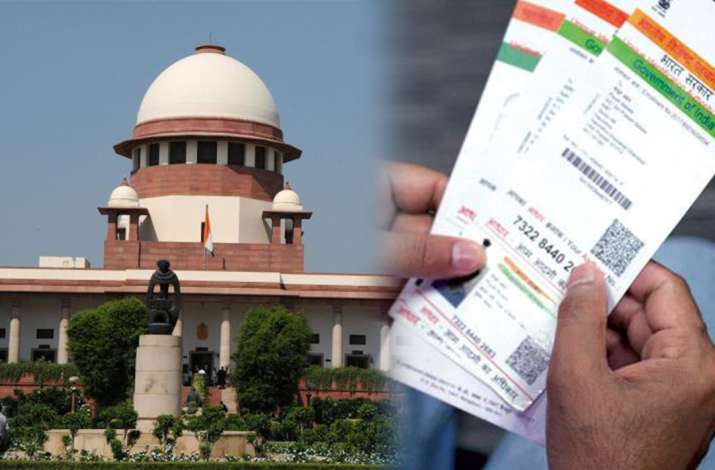 The Centre has told the Supreme Court that all mobile phone subscribers had to mandatorily link their numbers with their Aadhaar by February 6 under the e-KYC verification.
In an affidavit filed before the apex court on Thursday, the Centre cited an order of the top court in February this year where it had approved the norm for mandatory Aadhaar-mobile phone linkage in the Lokniti Foundation case with a window of one year.    
Furnishing a copy of the Aadhaar will also be mandatory for opening new bank accounts, the Centre informed the top court. No starvation deaths had occurred in the because of anyone not having Aadhaar, the Centre said in its 113-page affidavit.
"The deadline for linkage of Aadhaar with mobile phone number cannot be modified by the government unilaterally (as it is fixed by the SC)," the Centre said, adding that it has decided to extend the deadline for linking Aadhaar with existing bank accounts till March 31.
"Until March 31, existing bank accounts will not be made non-operational for not linking with Aadhaar. But as far as opening new bank accounts are concerned, Aadhaar or enrolment ID must be given as proof of identity. For existing account holders, the deadline for Aadhaar based verification is being extended to March 31 and no coercive action will be taken till then."
The government's assertion acquires significance considering that the SC had on Monday sought the government's response in next four weeks while hearing a separate petition challenging the mandatory linking of mobile phones with Aadhaar.
Meanwhile, a Constitution bench of the top court will begin hearing a bunch of petitions challenging the validity of Aadhaar on the ground that it violated citizens' right to privacy.
The apex court had earlier validated the Centre's decision for mandatory linking of Aadhaar with PAN or filing of income tax returns.
In its affidavit, the Centre also cited several major cyberattacks and hackings in the recent past that affected many countries and said, "There has not been a single instance of hacking or data breach in or from UIDAI or any of its servers."
The Centre further asserted that the incidents of cybercrime and hacking showed that such instances were rampant with or without Aadhaar.