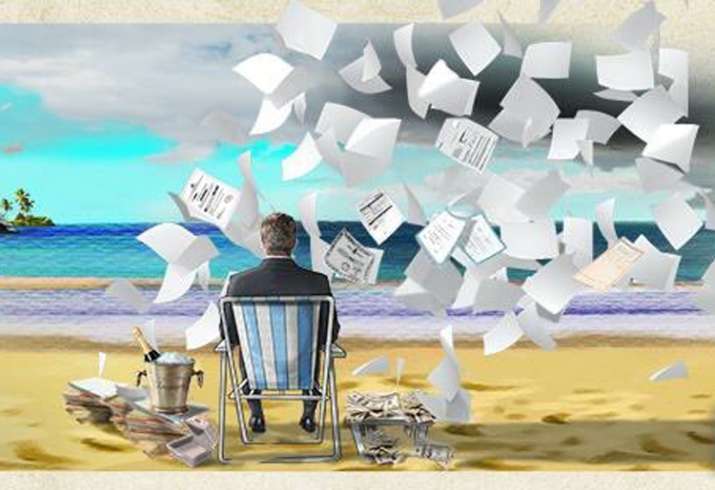 Names of 714 Indians figure in the recently leaked "Paradise Papers", a cache of 13.4 million documents that reveal the offshore accounts of the world's elite in tax havens, a media report said today. 
According to an investigation by the International Consortium of Investigative Journalists (ICIJ) and the Indian Express, names of Civil Aviation Minister Jayant Sinha, BJP Rajya Sabha MP R K Sinha, corporate lobbyist Niira Radia and Sanjay Dutt's wife Manyata (under her former name Dilnashin) appear in the leaked documents. 
The leaks contain documents mainly from Appleby, an offshore law firm with offices in Bermuda and beyond. Among the 180 countries represented in the data, India ranks 19th in terms of the number of names.
Jayant Sinha's name figures in the records because of his past association with the Omidyar Network which invested in a US company D.Light Design. The firm has a subsidiary in Cayman Islands in the Caribbean Sea.
Sinha responded to his name figuring in the list, saying he had joined Omidyar Network in September 2009 as Managing Director of their Indian operations and resigned in December 2013 to "pursue a career in public life." He was on D.Light Design's Board as a representative of Omidyar Network for which he said he did not receive any compensation.
"I received consulting fees as well as shares in D.Light Design. This has been fully disclosed and accounted for in all my tax filings. In my various disclosures for the elections, the Lok Sabha and the Prime Minister's Office, I have disclosed all my aggregate share holdings," he said in a statement to The Indian Express. 
In a series of late night tweets, Sinha said, "These were bonafide and legal transactions undertaken on behalf of highly reputed world-leading organisations in my fiduciary role as Partner at Omidyar Network and its designated representative on the D.Light Board. All these transactions have been fully disclosed to relevant authorities through all necessary filings as required."
"After leaving Omidyar Network, I was asked to continue on the D.Light Board as an Independent Director. On joining the Union Council of Ministers, I immediately resigned from the D.Light Board and severed my involvement with the company. It is crucial to note that these transactions were done for D.Light as an Omidyar representative, and not for any personal purpose," he said. 
The name of Bollywood actor Amitabh Bachchan also appears as shareholder in a digital media company incorporated in Bermuda in 2002.
Records show Bachchan and Silicon Valley venture investor Navin Chaddha as shareholders of Jalva Media Ltd on June 19, 2002. The company was set up in Bermuda on July 20, 2000 and dissolved in 2005.
Big B has not directly responded to the report but in a blog published on Sunday, he said his name was dragged first in Bofors scandal and then Panama Papers and he has responded to all investigative agencies. 
"...the fullest cooperation has been extended at all hours as dutiful citizens .. and even after, if there is any more query that needs to be addressed, we shall comply," the Megastar said. 
"Tomorrow there could be more ..  and the process of our cooperation shall continue .. it is the norm .. it is the Law of the land .. it shall be abided by," he added.  
The 'Paradise Papers' leak comes nearly 18 months after the 'Panama Papers' revealed the offshore accounts of the world's ultra-rich in tax havens. The revelations cost many politicians their seat of power. 
The latest set of leaked documents throw light on how two firms - Bermuda's Appleby and Singapore's Asiaciti - with 19 tax havens across the world, help the global rich and powerful, including from India, to move their money abroad, the Indian Express reported. 
Sun Group founded by Nand Lal Khemka figures as Appleby's second-largest client internationally, with as many as 118 different offshore entities, the report said. 
Appleby, a 119-year-old company, is a leading member of the global network of lawyers, accountants, bankers and other operatives who set up offshore companies and manage bank accounts for clients, the report said. The firm help set up offshore companies to do one or a combination of the following: avoid or evade taxes; manage real estate assets; open escrow accounts; purchase airplanes and yachts paying low tax rates; or, simply, use offshore vehicles to move millions across the globe, the report said. 
Setting up offshore entities for corporate restructuring or expansion is not illegal in many countries but is often done to exploit loopholes in law to avoid legitimate taxes in their country.
The documents were obtained by the German newspaper Suddeutsche Zeitung, and shared with the International Consortium of Investigative Journalists (ICIJ) and partner media outlets.