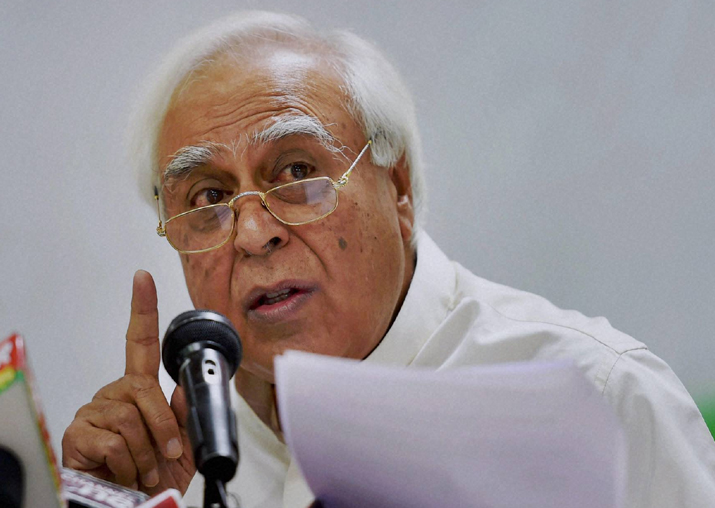 Famous for his 'zero-loss theory' suggesting no loss in the allocation of second generation telecom air waves, former telecom minister in the United Progressive Alliance government, who succeeded DMK leader A Raja in the ministry, today said that his position of no wrongdoing stood vindicated and the Bharatiya Janata Party and the then CAG must apologise.  
The senior Congress leader was commenting on the CBI court's decision to exonerate Raja, Kanimojhi and 15 other accused in the 2G spectrum scam of all charges against them.
CBI Special Court judge OP Saini said in his order that the CBI had failed to establish the charges against the accused and all were being let off.
"If you create an atmosphere of suspicion that everything the UPA-1 did was wrong.. the entire opposition gets on the bandwagon and vitiates the atmosphere, you get a situation where the entire telecom sector is in doldrums," Sibal said.
Sibal also trained guns at former CAG Vinod Rai under whose watch the CAG presented a report claiming that the allocation of 2G spectrum under A Raja had resulted in a notional loss of Rs 1.76 lakh crore to the state exchequer.
The amount was later brought down to Rs 30,000 crore in the CBI chargesheet.
"The telecom sector is in dire straits today because of Vinod Rai (former CAG), the leaders of the then opposition – both in the Rajya Sabha and the Lok Sabha that made such a song and dance about it."
Now our position has been vindicated, Sibal said.
Referring to the time when he took charge of the Telecom ministry from A Raja, Sibal said that he had looked into the facts and clarified there was no scam.
"When I succeeded Raja, I looked at the facts and I told the people of this country that there is nothing wrong that has happened. And today my position and that of the then government and the former PM stands vindicated."
Sibal further said that it was unfortunate that such an atmosphere had been created and faulted it for the rise in bank NPAs.
"A lot of the NPAs in the banks today are on account of the fact that these telecom companies' licenses were cancelled. People had to borrow money from the banks and could not return them. That's how a lot of these NPAs have accumulated," Sibal said, charging the current government for the situation.
The banking sector was hit, the economy went into a slowdown – all because of the BJP and Vinod Rai, Sibal said, adding that they must apologise for misleading the country.