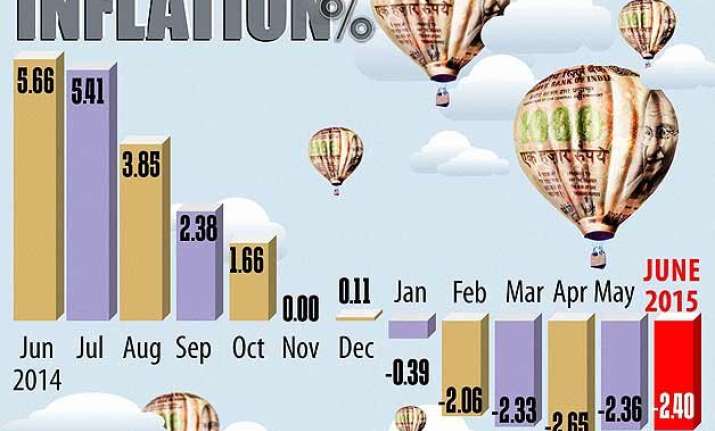 New Delhi:  Wholesale price inflation slipped further to (-)2.4 per cent in June on cheaper vegetable and fuel prices, continuing the deflationary trend for the eighth month in a row—prompting the industry to step up its demand for another rate cut by RBI to boost economy.
Although the prices of various kitchen items eased, pulses and onion turned dearer in June, as per the Wholesale Price Index (WPI) data released by the government today.
The inflation was (-)2.36 per cent in May, while it stood at 5.66 per cent in June 2014.The wholesale inflation has been in the negative zone since November 2014.
This comes a day after the Consumer Price Index (CPI) data showed that retail inflation edged up to eight-month high of 5.4 per cent in June.
RBI, which has cut its rates thrice so far this year, mostly tracks the retail inflation for its monetary policy review, but the industry body today said there is a case for rate cut with the wholesale prices showing a continuing deflationary trend.
The recent data showing weakness in manufacturing and services sectors have also added to the clamour for a rate cut by RBI to propel investments and boost the economy.  According to the WPI data, rate of price rise eased for food items, especially wheat, fruits and milk in the wholesale market. Overall wholesale inflation in food category declined to 2.88 per cent compared with 3.80 per cent in May.  
Vegetable prices declined 7.07 per cent, with of potato slumping 52.40 per cent. Sugar prices too are on decline.
Pulses were dearer by 33.67 per cent in June.
Fuel and power inflation was stood at (-)10.3 per cent.Commenting on the data, industry body CII said the near static price line and benign inflation outlook should propel the RBI to continue with its rate easing cycle in its next monetary policy to support investment and consumption demand.
However, it may not be easy for the RBI to take such a call based on WPI data as it primarily factors the consumer price inflation, which inched up in June.
RBI is scheduled to come out with its next bi-monthly monetary policy review on August 4. Earlier, the RBI had said it would watch out for the data, including inflation, and the monsoon progress before any change in its policy rates.
The WPI data further said the manufactured products index inflation was (-)0.77 per cent as against (-)0.64 per cent last month. Prices eased for cement, non-metallic mineral products and transport equipment and parts.