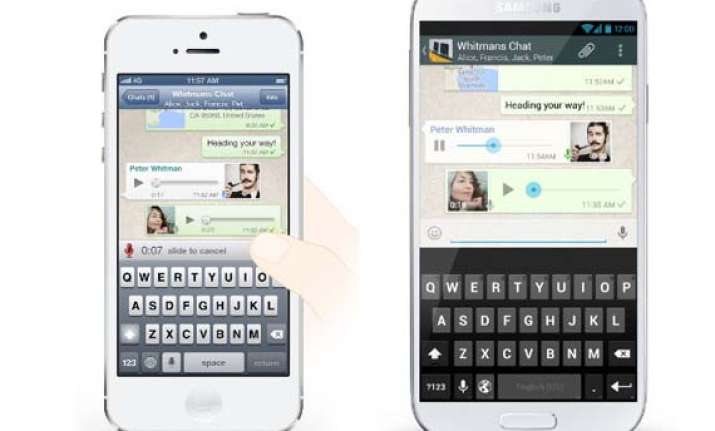 New Delhi, Aug 9: Popular messaging app WhatsApp has introduced Voice Messages for users across platforms that enables users to send recorded messages to their contacts. The service was launched in celebration of crossing 300 million monthly active users.
"We are releasing Voice Messages on all of our platforms simultaneously. We worked very hard to make sure that iPhone and Android devices have perfectly working Voice Messages functionality, and we put extra effort into making sure that BlackBerry, Nokia and Windows Phone users can enjoy the same rich and powerful Voice Messaging experience," the company said in a blogpost.
For Android, iPhone and Windows Phone 8 devices, users will now see a microphone icon next to the box where they type messages. All they need to do is Just press and hold the icon to record till the end of your message.
Once you release the icon, the voice message will be sent to the recipient. The recording could be canceled by sliding your hand across the microphone icon.
BlackBerry users (those who have older devices with keyboards) can press the space bar while Nokia Symbian users can simply hold the centre button to start recording the message.
There is no limit to how long the voice message can be.