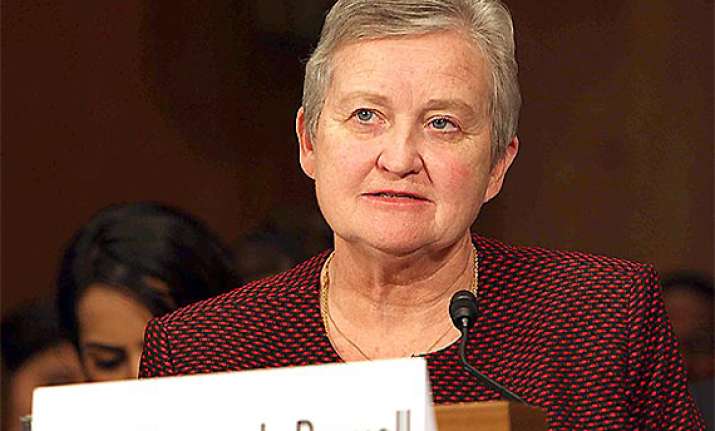 New Delhi, Apr 27:
The US today raised concerns over India's proposal to bring foreign companies under retroactive tax liabilities and adoption of manufacturing policies "discriminatory" to international firms, contending that such policy decisions "dampen" investor sentiment.
The new American Ambassador to India, Nancy J Powell, flagged off these concerns at what was her first public address in India after she presented her credentials to President Pratibha Patil on Tuesday.
Speaking at the American Chamber of Commerce's 20th Annual General Meeting here, the ambassador said she believed the business of the US Mission in India was "business" and improving bilateral trade relationship and hence she was "naturally concerned" by certain ongoing challenges to trade and investment.
Among the policy decisions that she said cause "significant concern" and "dampen sentiment" about India's investment climate, were retroactive tax provisions in the Finance Bill, that has led to a retrospective tax claim of more than USD 2 billion on British telecom company Vodafone from a 2007 deal.
"The adoption of manufacturing policies discriminatory to foreign companies and the inclusion of retroactive tax provisions in the Finance Bill are two examples (of policy concerns)," Powell said.
The provision for a retroactive tax has caused serious concern among foreign companies and Finance Minister Pranab Mukherjee had to do a lot of explaining on this during his recent visit to the US where he said that proposed changes to bring into the tax net Vodafone-type deals were only clarificatory in nature and the government was ready to listen to the concerns of the business community on this.
Powell said the other ongoing challenges to trade and investment included tariff and non-tariff barriers, restrictions on foreign investment, lack of transparency, and defence offset requirements.
"I came here with a commitment to improve our trade and investment, including high tariff and non-tariff barriers, restrictions on foreign investment, lack of transparency, and defence requirements," she said.
Talking about the defence sector, Powell said equipment sales were critical to India's military modernisation and the US-India partnership in this area has experienced one of the highest growth rates in the Pacific.
She pointed out that President Barack Obama had recently called for reforms to American export control system to create a more streamlined approach to secure trade.
"This new approach will help US exporters to be more competitive and reliable suppliers of innovative technologies.
We in turn expect India to sign up to and adhere to appropriate international regimes," she said.
Describing as a "homecoming" her return to India after a decade following a stint as a Consul General in Kolkata and then as Minister-Counselor for Political Affairs in New Delhi, Powell said she had noted much change on arrival in the "gleaming new terminal 3, the Delhi Metro and the high rises of Gurgaon and Noida... (as also) the Fords and Chevys".
Referring to technical discussions between India and the US on a bilateral investment treaty, she hoped Washington's announcement of a new model BIT will provide a basis to soon launch formal negotiations.