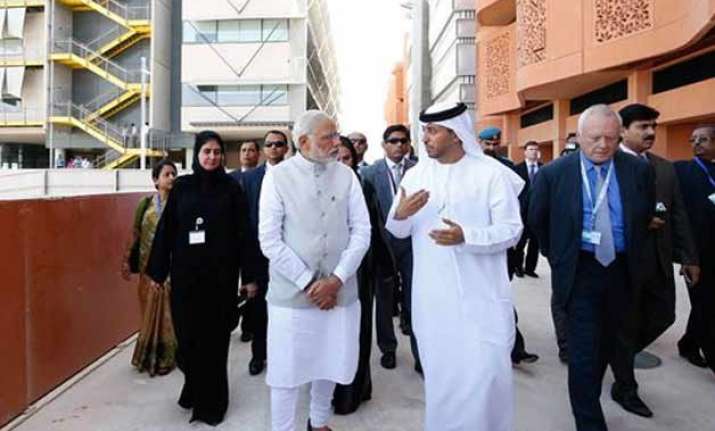 Abu Dhabi/Dubai: To bolster economic ties, the UAE today agreed to enhance its investments in India to USD 75 billion (about Rs 5 lakh crore) including through a dedicated infrastructure fund, while the two nations will also raise bilateral trade by 60 per cent in the next five years.
The two countries also agreed for strategic partnership in the energy sector, including through UAE's participation in petroleum sectors in India and tie-ups in the third countries.
While deciding to elevate India-UAE relationship to a comprehensive strategic partnership, Prime Minister Narendra Modi and Crown Prince Mohamed Bin Zayed AI Nahyan also agreed to facilitate participation of Indian companies in infrastructure development in the UAE.
As per a joint statement issued after meeting between the two leaders, they resolved to "further promote trade between the two countries, and use their respective locations and infrastructure for expanding trade in the region and beyond." 
The economic cooperation would be enhanced "with the target of increasing trade by 60 per cent in the next five years." 
India-UAE trade, valued at USD 180 million per annum in the 1970s, is today around USD 60 billion, making the UAE, India's third-largest trading partner for the year 2014-15 after China and the US.
Acknowledging that India is emerging as the new frontier of investment opportunities with the new initiatives by the government to facilitate trade and investment, the two countries decided to "encourage the investment institutions of UAE to raise their investments in India, including through the establishment of UAE-India Infrastructure Investment Fund, with the aim of reaching a target of USD 75 billion".
This would "support investment in India's plans for rapid expansion of next generation infrastructure, especially in railways, ports, roads, airports and industrial corridors and parks," the joint statement said.
Earlier in the day, Modi addressed business leaders from the UAE and said India offers investment potential to the tune of USD 1 trillion and invited them to invest in the country.
Besides, the UAE will tap "India's expertise in Small and Medium Enterprises to create a vibrant industrial base in UAE, which could also be of benefit to Indian enterprises."